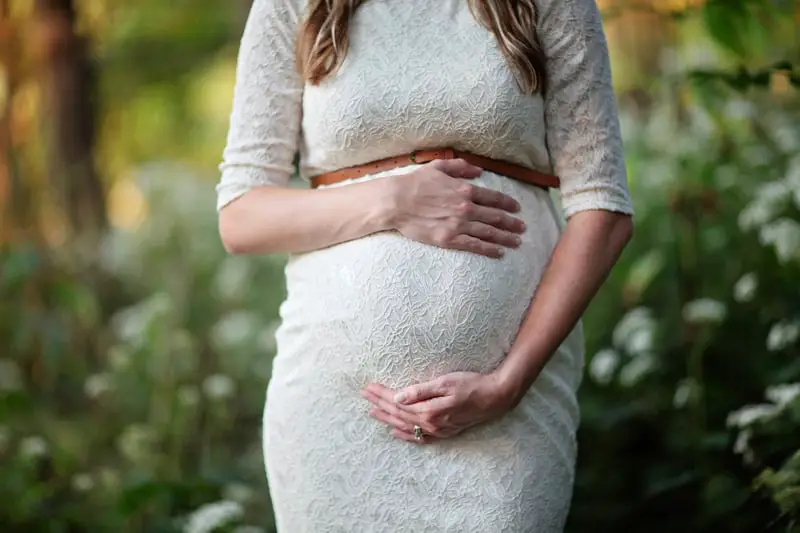 Having a wedding is a huge event in everyone's lives, and so is having a child.  When these both happen at once, it can be an amazing but stressful time. For a variety of reasons, many women do not want to show off their baby bump, no matter how far along they are.
The best way to hide a baby bump in a wedding dress is to take the focus off of that area. By wearing a wedding dress that is loose and also diverts attention away from the bump are the two easiest things that you can do. It will vary greatly, depending on the body type and how far along you are. 

While this may be simple for some, especially in the early stages of the pregnancy it will be a bit more difficult for others. By combining different methods and tailoring it to your situation, it can be accomplished, while still looking fabulous. 
Before writing this article I consulted with both my sister-in-law and a close friend who were both pregnant on their wedding days but in different trimesters.
Why do people want to hide their baby bump?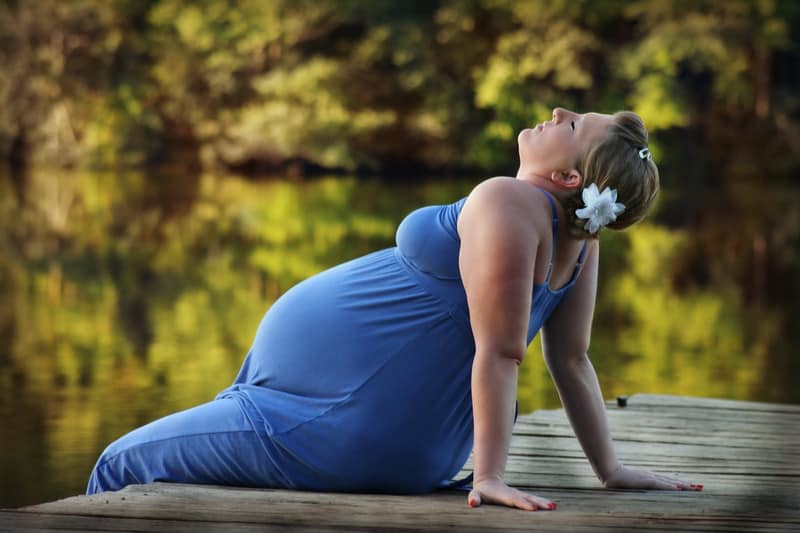 Everyone has their reasons and it is nothing to be ashamed of. It is your body and you have the right to choose what to show and not show. Actually, most women are often advised to keep the pregnancy to only close family in the first trimester. 
Mom doesn't want people touching her–  Who likes to be touched without being asked? Not many people, and if you are pregnant even less so. Some people are very touchy and do not have personal boundaries. These people may be well-meaning such as your friends and family, but that doesn't give carte blanche to touch you. Whenever possible, expecting moms should give themselves some space between others. This is for their health and the health of the baby. 
She just doesn't want people to know– Sometimes it can be inconvenient for everyone to know that someone is pregnant.  This could be because of relationships, work discrimination, or even being pregnant because of unusual/unwanted situations. Everyone will find out when the moment is right for a woman to make an official announcement, take your time and let everyone know when you feel right. 
The boss/co-workers don't know yet-  It is already tough enough being a woman in the workplace, even if you have the best job and boss.  Sadly, there is always a fear that you might be seen as incapable to maintain your position in a company while pregnant or even encouraged to resign. These are not only horrible things but illegal.  This also comes into play when seeking employment while pregnant. You don't want to be passed over for a position because of your pregnancy. With social media, everything is online now future employers will be looking. 
 She doesn't feel comfortable being pregnant-   Everyone struggles with body image issues and some more than others. A mother could be struggling with this because of the baby bump.  Even though maternity dresses and clothes are more fashionable than ever, they still have a stigma that they look frumpy and unattractive. If you or someone you know feels this way, there are people and places that can help in a positive and supportive way.
She is a surrogate– Surrogacy has enabled a lot of people and couples to successfully build a family of their own. This is an amazing opportunity for everyone involved. Though some are not as accepting of the idea of being a surrogate mother or getting a child from one.  It could lead to an awkward situation and it just may be easier to hide the bump than have to explain to those that are not as open to the idea of surrogacy. 
People are rude– Some mothers get tired and want to avoid inconsiderate people. People can gawk, claim that they are not pregnant, that they are just fat, or even have a thyroid issue. This is not what you want on your big day, as ignoring these looks doesn't always work. 
Mom is uncomfortable–  This is a huge life-changing deal and sometimes the pregnancy isn't a reason to celebrate. Unfortunately, if a pregnancy is unwanted/unexpected for reasons such as; they are no longer in the same relationship, mental, emotional, health or even financial struggles. It could be hard for the expecting mother and best not to have them agitated in a time that they need to be their healthiest, mentally and physically.
I am in my (1-3) Trimester. What should I wear?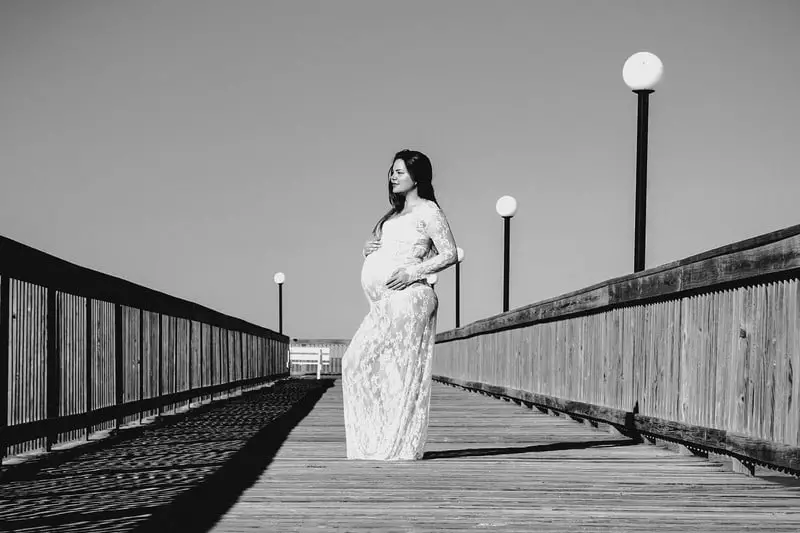 This is the most common question that is asked, and to be honest, there is no answer that will fit everyone. Well, there there is, but wearing a muumuu is not going to look good on everyone. Everyone puts on different amounts of weight at varying times. This could even change from one pregnancy to the next. 
Of course, some women don't put on a lot of weight until after the first few months or at all. This might be you and shopping for a dress could be easier for you.  But one of the hardest things to guess is, how much you will be when the wedding comes. Also, what will look good when you are at that weight. Here are some tips for hiding the bump while still looking amazing.
How do I find the right dress?
Go to a professional- While the internet is amazing it doesn't allow you to try the dress on and get a feel for it. This could be the best choice if you don't have a lot of options to shop around and try things on.
If you are in a small town where gossip flows,  you may want to a neighboring town. Most good dress shops know how to help you in this situation. You could also make an appointment or visit a larger bridal salon, such as David's. Bridal consultants at any major bridal store will be able to find dresses that will hide your baby bump. 
Ask Around/Look Online– As you have read there are countless ways to hide your bump. Some are more flattering than others, you have to find what is right for you. By looking for someone with a similar build, it will be a helpful way to see how you may look in certain dresses. If you are having a dress fitting and have a friend that also pregnant, and further along they could try the dress on for you to see how it looks. 
If you decide to actually buy your dress online (after trying the same dress on in a store) you will find my full article on the pros and cons of online wedding dress shopping extremely helpful.
Get Customed Fitted- If you have the funds available, this option could be a right for you. Or if you do purchase one online make sure you go to a trusted seamstress or tailor.
Having on that is available, around the time of your wedding will also be handy. They can fix it to your body type as it changes if you have bought it far in advance which is most likely.  It's common to adjust a gown to fit a growing bump right before the wedding. 
A few things to remember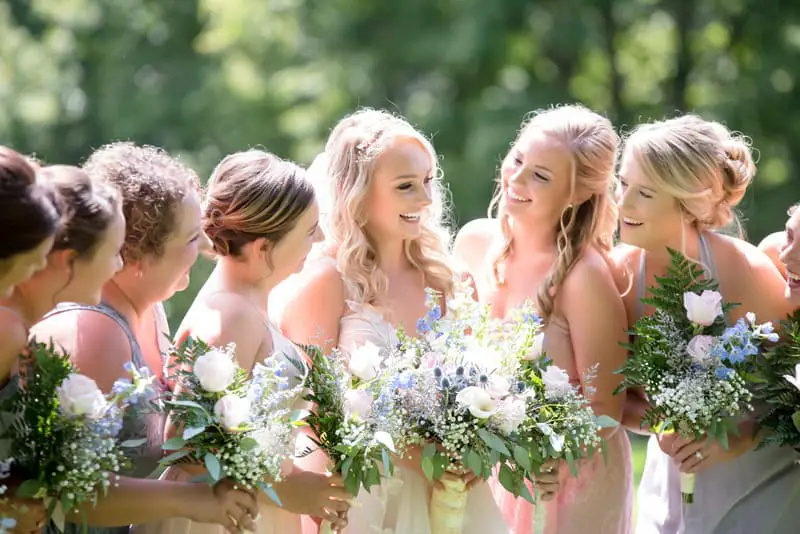 Have a Plan-  You want your special day to be fun and enjoyable. Worrying about your baby bump is not. So, have a plan and a back up one. Things will arise since you are pregnant and you should be ready for them. Depending on how far along make sure you plan accordingly and have some support.
Get a Support Team: It's not easy being a bride, so it is a good idea to get a team around you to help. You are probably trying to hide the baby bump from one person or a certain group of people. Your bridesmaids and close friends could be a valuable asset. The biggest one will be your partner though. The groom will be able to get in the way and position himself around you so that the view is obscured from those ceratin people. 
Comfort is Queen- Comfort is essential when it comes to choosing a maternity wedding dress.  You always look your best when you truly feel your best. That confidence you have from feeling and looking great means everyone is looking at you and your significant other smiling faces and not your baby bump. Keeping baby news a secret is nothing new, but you should never put it ahead of yours and the babies well being. 
Go Bigger- A wedding dress can take up to six months to get finished, four months on the short side. This means that you probably will do the fitting months in advance. Your stomach will still be growing and may grow quite a bit during this timeframe. So you will want to plan for this, generally, you add an inch for each month left. Then to be safe add one more size. This will make sure you fit in it and you can always alter it if need be. 
Know Your Shape-You want to think of yourself as a shape if you need help figuring it out what you are, try asking a friend. If your body is an hourglass, you should pick a dress with wide shoulders and a cinched waistline. If you're apple-shaped, choose a dress with waist detailing, this will add more shape. A pear-shaped woman should go for a long, empire line dress that skims your lower half. A lower neckline will flatter a bigger bust and halter neck style will give smaller busts a boost. These are just a few little things that could help you out. A professional would know these things, but these till give you some ideas to start with. 
What am I going to wear?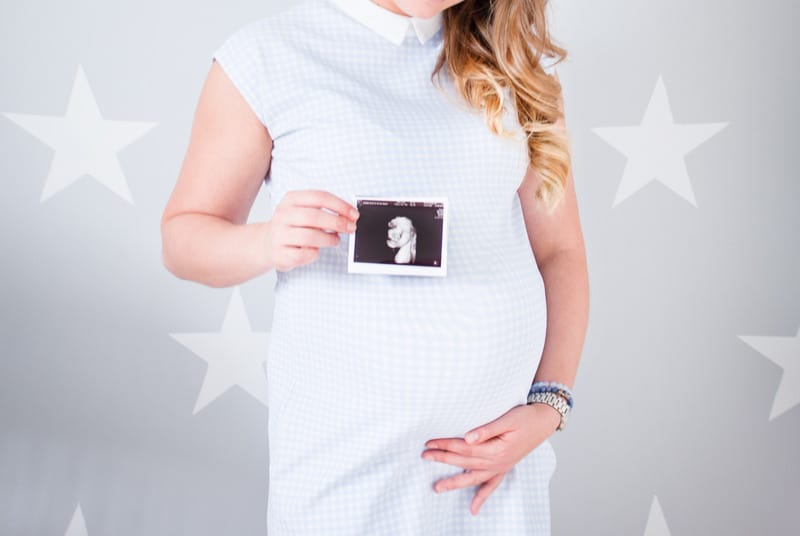 The options are now endless options, but there are a few tried and true dresses/styles that are a good place to start.  It may take a little more research and search but the right dress is out there for everyone. Try mixing and matching these ideas to get the optimum dress for your special day. 
Flowing Dress– You may want to get something slightly flowing. Not a super full dress, but more empire rather than basque waisted. You probably don't want a mermaid form-fitted dress. Remember to take into consideration your chest will grow as well, so when ordering a dress don't take that area in too much.
A-Line– An A-line dress is another great choice, one that may have an empire bodice. This is a dress that is gathered under the breast area and flows then to the floor. The fabric is gathered and hides the stomach area. It helps to create a silhouette that can hide the bump. 
Empire Waist-   This waist style is a very common type of wedding dress style. It is often used in dresses that are also not made for maternity, so it wouldn't be out of place.  
A Slip– No, this is not the bed dress you are thinking about, though it is inspired by it. They are becoming very fashionable. They tend to have a lot of room and are very comfortable to wear. These can be easily tailored to your needs and altred in a small amount of time.
Blazer and Pants-  While it is not the most conventional,  it could be very flattering and look amazing on you. The pants could have an elastic waistline to give comfort and flexibility. The blazer is a great garment to hide the baby bump while still being chic. 
Accompaniments 
Colors and Prints-  Shopping for a dress with a floral print or a busy pattern can confuse the eye, and make it difficult to tell the shape of the body underneath.   Dark colors also have a slimming effect. You want to stay away from bright colors because they attack the eye and tend to show lines. 
Underwear/ Spanx-  Comfort always starts with the undergarments and why not have them be functional as well. These also could be able to hide your baby bump. Spanx or a good pair of leggings, that can make your tummy look slimmer while you're wearing your dress can hide a lot. Unfortunately, it might be a bit uncomfortable for some, but they should not be too tight or suffocating.
Accentuate other body parts- With the right accents, you could draw the eye away from the abdomen. A deep v-neck will create a long appearance and draw the eye up and away from the waistline. Cap sleeves and bared back dresses also create a focal point far away from the bump. 
Accessorize- Now you want to keep it simple with this one so as not to draw attention. But with a strategically placed bouquet or handbag, it could assist in hiding any evidence of your bump.  Also, think about necklaces or other jewelry that could draw attention from your midsection. Remember your partner is the best accessory to hide your bump. 
Let's talk about shoes-You will be on your feet all day, and your feet will already be swelling from the pregnancy. If you are sitting down often to rest your feet, people may start to wonder. So, you will want a comfortable pair of shoes, that aren't flat or have a very low heal. It could be a long day. 
Other ways to avoid detection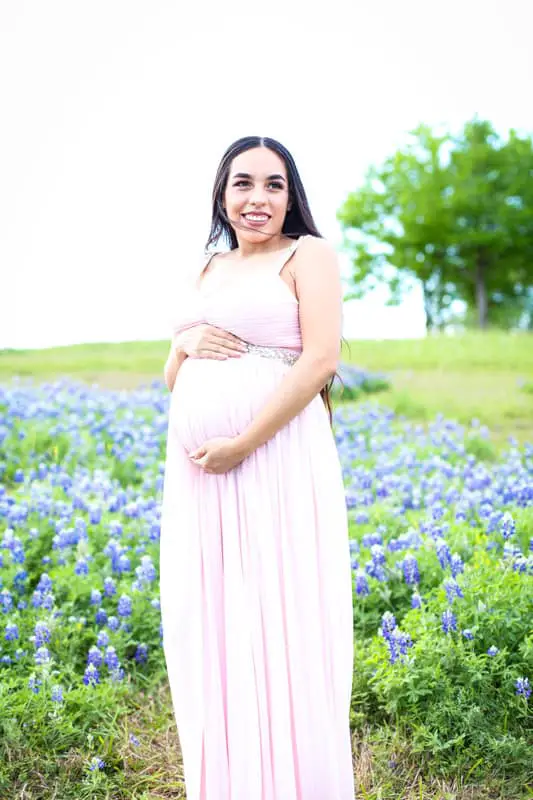 Use Your Photographer-  They will be around you most of the day and usually near you. Use them as a barrier, talk to them about your situation beforehand and work out a plan. They have seen it all before and may have some good ideas as well to help you. 
Follow Tradition–  It may seem a bit strange to some that you want to do this type of wedding, but it could really be for your advantage. There are some traditional dresses that are great at hiding baby bumps.  This would allow you to keep your mind off the bump and enjoy your day.  
Or Go Against-  A less traditional or more informal ceremony, may better suit your circumstance. First off, you will have a lot more choices in clothing. Another positive is that you could choose a venue that allows you to hide the bump. 
Elope – The ultimate way to keep your baby bump from certain people on your wedding day is not to have them there at all. Although perhaps not your dream wedding, you can always elope now and have that big family wedding after your bundle of joy has arrived.
For a complete guide on eloping to the wedding capital of the USA, check out my article on eloping to Las Vegas here.
How to Handle Awkward Situations.
You can blame on your diet- If the bump does happen to appear, and someone brings it up you can always say it was your diet. Planning a wedding and starting a life with someone is stressful, so you ate a little too much, it happens. 
Have some fake champagne- Not drinking at a wedding is usually a red flag that someone is pregnant. You can keep a glass of ginger ale or sparkling apple cider easily accessible for toasting. The other option is to have a fake drink with a glass of real champagne. Just bring it to your lips and act like you took a sip. 
Choose your menu wisely-  Try to have your wedding menu so that none of the foods agitate you. If your wedding menu does include some of these foods you need to avoid them.
If they do notice that you are avoiding foods, the phrase "I'm too excited to eat!" works really well. If nausea arises, you can just tell your guests that it's the excitement or emotion is overwhelming and just excuse yourself.