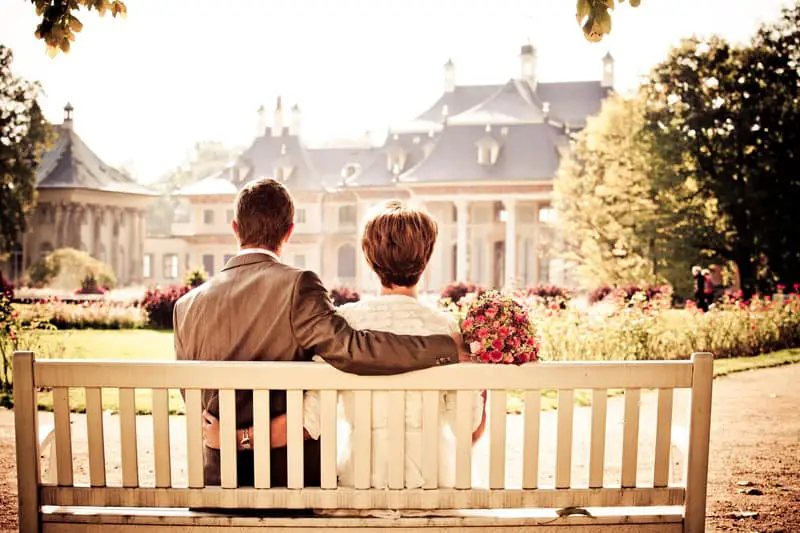 Although getting married in a city hall is fairly simple to arrange, it will probably require a little more planning than you realize.
As laws differ from state to state, the process for applying and getting married in a city hall depends on the specific laws of the state in which you'll get married. You will, therefore, need to take a bit of time to ensure you have everything prepared accordingly.
So what is it like planning a city hall wedding?
The most important step when getting married in a city hall is getting your marriage license. This is your permission to get married, and all US citizens need a marriage license to prove they are legally allowed to get married. Also, be mindful that it's a public place & a place of work for most.

There is no doubt that a city hall wedding is far from the traditional wedding most of us see on TV, but it's also just as meaningful.
Lea and I had both a city hall wedding and a more traditional family wedding, and I much preferred the former due to several aspects of the planning. Below is a guide to what you should remember if you go down this route.
States with waiting periods
In most states you are allowed to get married the moment your marriage license is issued, however, in some states, you'll need to wait a day or even possibly two.
You will, therefore, need to find out what the law is in your state regarding this, before you apply for your license, or even before you decide on a city hall.
Most city halls will have all this information up on their websites, but it is also a good idea to phone your hall of choice and get some personal advice too.
The following states have waiting periods.*
One- day wait:  
Delaware, Illinois, Louisiana, New York, and South Carolina
Two-day wait:
Maryland.
Three-day
wait:
Alaska, District of Columbia, Florida, Iowa, Kansas, Massachusetts, Michigan, New Jersey, Oregon, Pennsylvania, Texas, Mississippi, and Washington.  
Five-day wait:
Wisconsin and Minnesota.  
*As laws can change, use this information as a guide only.
The above information was provided by FindLaw and NOLO.
Getting a marriage license
Some city halls allow you to fill in your application online however, you will both still have to complete the application in person, together at the city hall. City halls that offer an online application will have a link on their website, and then you'll just need to follow their prompts.
If you don't apply online you can get an application at the city hall but find out if you need to make a prior booking before you go, as some city halls require this. Additionally, be careful not to apply too far in advance. In most states, a marriage license has an expiration date and you don't want to have yours expire before you get married.
The expiration date of a marriage license
| | |
| --- | --- |
| 10 days | Oklahoma.   |
| 20 days | South Dakota.   |
| 30 days | Alabama, Delaware, Hawaii, Kentucky, Louisiana, Missouri, Tennessee, Utah, Wisconsin.  |
| 33 Days | Michigan. |
| 35 Days: | Colorado. |
| 60 days | Arkansas , Florida , Illinois, Indiana , Massachusetts, New York, North Carolina, North Dakota, Ohio, Oregon, Pennsylvania, Vermont, Virginia , Washington, West Virginia.  |
| 65 days | Connecticut.   |
| 90 days | Alaska , California,  Maine, New Hampshire,Rhode Island , Texas.  |
| 6 months | Iowa, Kansas, Maryland, Minnesota, Montana, New Jersey. |
| 1 year | Arizona, Nebraska, Nevada , Wyoming. |
| No expiration | District of Columbia, Georgia, Idaho, Mississippi, New Mexico, South Carolina.   |
What you'll need for a marriage license
Although the documentation may vary between states, generally you will need to take the following with you when applying for a marriage license.
Photo identification (passports, or licenses).
Proof of citizenship or residency.
Your birth certificates (to prove age).
A divorce decree or death certificate if you have been married before.
Your social security numbers.
Your parents' names and place of birth.
Money to pay the fee ($10 – $115 depending on the state). Make sure to check what is the acceptable form of payment.
Some states also require blood test results and a witness, so double-check this information before you go.
Normally the application will be processed while you wait and you'll be able to take it home right away, but some states will post it to you. Make sure you check all your information is correct before you leave.
States that allow same-day marriage
For those who just can't wait any longer to say I do, you can get your marriage license and get married in just one day in the following state.
States that allow you to marry right away.*
Alabama.
Arizona.
Arkansas
California
Colorado
Connecticut
Florida (Only for residents who have both taken a state-sanctioned marriage course within the last 12 months.)
Georgia
Hawaii
Idaho
Indiana
kentucky
Maine
Mississippi
Montana
Nebraska
Nevada
New Mexico
North Carolina
North Dakota
Oklahoma
Ohio
Rhode Island
South Dakota
Tennessee
Utah
Vermont
Virginia
West Virginia
Wyoming
*Remember to use this as a guide only, you will still need to verify the laws with your city hall.
Booking and choosing a city hall
Although getting married in a city hall is fairly simple to arrange, it will probably require a little more planning than you realize.
As laws differ from state to state, the process for applying and getting married in a city hall depends on the specific laws of the state in which you'll get married. You will, therefore, need to take a bit of time to ensure you have everything prepared accordingly.
Remember you are allowed to get married in any city hall so you don't have to opt for the first one you find. Look around to find one that suits your date and requirements best. If you look, you can find some gorgeous looking city halls which could provide some unexpected magic to your day.
A city hall wedding is still a wedding after all, and even though it is going to be simple, aesthetics does make a difference to how it will all feel on the day, especially if you are going to take some pictures.
Please note. Apart from a few exceptions, you must get your marriage license in the city where you'll get married.
How to prepare for the day
The day you get married, there are three things you will need with you. Both of your valid government IDs, your marriage license, and a witness. A witness can be anyone over the age of 18. (Some states will require two)
Both you and your partner will also need to understand and speak English. However, if either you or your spouse require sign language or an interpreter this can usually be arranged, but you'll need to notify the office beforehand.
Security will be tight at the City Hall so be prepared to have your bags searched and you'll need to go through a metal detector.
You should watch out for items you may have on you such as a corkscrew, a nail file, or nail scissors, etc. Don't take a lot, it will be far easier for you to just take the necessities.
You should also arrive dressed and ready to get married as there probably won't be anywhere to do it at the hall, and you may not have the time either.
What to expect: the wedding ceremony
A public ceremony will be quick and last just 5 minutes. Normally bookings can be made between 9 am and 3:30 pm during the week and usually there is time available on Saturdays too.
If you are required to make a booking, it is advisable to get to the city hall 30 minutes before your appointment to avoid being late. If you are late you probably won't be able to get married that day.
The procedure will go as follows.
Firstly before your ceremony, you will go into the office for your documents to be checked.
You will then have to wait for someone to call you so you can meet the judge and for your witness to sign the license. Here they will ask you if you are exchanging rings and saying your own vows (if it is allowed).
Once the paperwork is done you will usually go straight to the ceremony, but you may have to wait a bit depending on how busy a day it is. (Make sure your guests are ready for this. Once you have met with your judge, no one should go wandering off).
During the ceremony, you'll be allowed six guests including the witness and a photographer.
The actual ceremony will usually take about 4-5 minutes.
Usually, couples will take some pictures in the city hall after they are married.
The total cost
The Licence
The cost of a marriage license ranges between $10 to $ 110, but the cost varies depending on the state and city, and can sometimes be reduced if a couple completes certain premarital counseling or programs.
Texas, for example, gives a $60 discount after the completion of a program and Oklahoma gives a $45 discount.
The ceremony
While the average cost for getting married in the USA at the moment is $38,700, a city hall wedding ceremony will only set you back about $25 to $107 depending on your state. Now that should put a smile on your dial!
Do your research
Whether you're planning to elope, or just wanting a simple and small ceremony that avoids all hassle and cost, once you have an understanding of the laws and procedures, a city hall wedding is easy and simple to arrange and won't cost you very much at all.
However, this doesn't mean that it has to be dull and boring. A city hall wedding can feel just as memorable and as lovely as you'd expect a traditional one to be. With far more freedom on your day to do as you please, a city hall wedding planned wisely can be fun, exciting and incredibly romantic. Regardless of your budget.
The ceremony extras you haven't thought of
While getting married in a city hall won't require too much planning, it is still a wedding, and it should still be exciting and memorable. Here's how, with just a little bit of effort, you can make it feel like the special day it is.
Phone beforehand
Before you book your time and date, it's a good idea to phone and find out when your city hall has its quiet days.
With a little bit of hindsight, you could book or go on a quieter day which will give you more time to enjoy the ceremony, without feeling rushed. Similarly, if you prefer the thrill of a buzz, phoning ahead will allow you to enjoy your day amongst the rush of a crowd.
VIP treatment
Some city halls also offer an option to reserve a private space, where you will be allowed more time (an hour or even more) and you can have as many as 100 guests present.
It will cost a little more of course but still, it won't be nearly as costly as a traditional wedding. The San Francisco city hall, for example, offers one-hour wedding packages for $1,000. Rental includes up to 100 guests, chairs and other equipment.
Regardless of your preference, phoning your city hall and taking the advice of someone who knows will put you in the best possible position on the day.
Hire a photographer
As you'll be saving a lot of money on your wedding, why not consider spending some money on hiring a professional to capture the memories for you.
Hiring a professional photographer means you'd get the best quality pictures of your wedding day, instead of the snapshots your friends and family may take for you – despite being taken with lots of love. However, there are effective ways to DIY your wedding photos, see my guide here.
Having a good camera doesn't mean you'll be able to capture a perfect image, there is a lot more that goes into taking great wedding photographs and professional will know-how. It is worth some consideration. If you have any doubts, why not read my full article about hiring a videographer.
Wear something special
Bride
Since it's not the traditional big white wedding, you can wear whatever you'd like, and in any color, you would like. Get creative and make it fun.
From an ultra-chic pantsuit to a simplistic short dress, or even the traditional long gown, a Courthouse wedding dress can vary from the traditional to just simple streetwear. The key is probably to find something in the middle. Make it special but practical, especially if you plan to head out into the city afterward.
Groom:
Generally, the best attire for a Courthouse wedding is semi-formal to formal, but you should match your partner's dress code. For formal wear, opt for a tailored suit, for semi-formal opt for a nice pair of trousers, a collared shirt, a tie, and formal shoes. You could choose to wear a suit jacket too. Use Instagram for inspiration. 
Get some flowers
Weddings have always gone together with flowers, so why stop with a city hall wedding. A fresh bouquet for the bride and a boutonniere for the groom, even if they're simple, will add some beauty to your ceremony. It's a small way to make your ceremony feel personal and special. You could also get some spring corsages for all your guests to make things shine.
Opt for a classic bouquet of calm and soft colors that won't stand out too much if you're shy or unsure of what you want. You really can't go wrong with a classic bouquet.
For something more romantic, choose wildflowers as your bouquet. They will last longer too.
If you like bold, add a splash of bright color. Make it bright pink, yellow or even green to reflect the excitement and joy you feel. There are no rules so make it fun.
Invite close friends and family
Think about who you'll want to invite. You may want to invite a few special people who mean a lot to you. Sharing a wedding day with your loved ones will make it far more memorable and personal and you will probably have a lot more fun too.
Just remember the whole point is to make things small so limit yourself to four or five guests. Remember to confirm the number of guests you are allowed to take in with you.
If you'd prefer to be married alone, remember you'll still need a witness, however, you could ask your photographer to be one.
Plan post-ceremony activities
Make the most of the day and plan something special. Whether it is with or without your friends and family, your marriage ceremony will be over pretty fast, and you don't want to be left unsure of what to do next.
Plan a special meal at your favorite restaurant, or book a special table at a fancy restaurant you've always wanted to visit.
A simple meal in your home can also be made celebratory and if you enjoy parties, you may consider hitting the town for a bit of a party, with a few of your close friends. The point is to feel special on your big day and to make some great memories you'll cherish.
Don't leave your post-ceremony activities to chance, you don't want to be disappointed on such a special day.
Questions to ask the city hall
Phone the city hall and ask detailed questions to ensure you've covered all of your options.
Ask questions such as:
Will we be allowed a photographer?
Will we be allowed to have flowers?
Can we exchange rings during the ceremony?
Will we be able to say our own vows?
How many guests are we allowed?
What days are the quietest/ busiest?
Can you provide your own officiant?
Traditionally, a wedding officiant is a member of a religious group who is also legally recognized by a state to perform weddings. Ordained clergy, such as a minister or a priest, are officiants.
In some city halls, if you are having a private ceremony, you can use your own officiant. I wrote a complete A-Z guide of how to do this in my article: How To Choose A Wedding Officiant To Make Your Day Perfect
However, it is best to contact your city hall to inquire about what your options are regarding this. Almost all ceremonies at a city hall will be conducted by a judge and the marriage is considered a civil marriage, as it will be without any religious affiliation.   
The most beautiful city halls to get married
Austin (Texas) City Hall.
San Francisco City Hall. (Absolutely stunning.)
New York County Supreme Courthouse.
Santa Barbara Courthouse.
Philadelphia City Hall.
Pasadena City Hall.
Marylebone Town Hall.
Dublin City Hall.
Certaldo Town Hall.
Cleveland city hall.
St Louis City hall.
Destination weddings
If you like the idea of combining your wedding and your honeymoon, you may want to consider getting married in a foreign city hall.
Regardless of whether it's somewhere nearby or far away, having a destination wedding will leave you feeling very very special and romantic. 
Getting married outside the US
There are, however, some important things you should know before you book your tickets to take the plunge.
A destination wedding is more complicated than a city hall wedding in the United States.
In general, marriages that are legal and valid out of the USA are also legal and valid in the United States, however, you should check with the embassy of the country in which you'll be married to be sure, to avoid unnecessary disappointment.
Most countries will require proof of a valid U.S. passport, birth certificate or other proof of residency before you'll be able to get married, but you may also be required to get a medical test. 
You will more than likely be required to obtain a marriage license in the country in which you'll be married which may mean a lengthy waiting period so be cautious with your planning.
You may need to apostille or legalize documents. This can be time consuming and expensive.
Most countries require proof that you are legally able to get married, in the form of certification. As no document exists in the United States, you will need to get an affidavit at the American embassy or consulate in the country where you'll be married stating this. This is called an affidavit of eligibility to marry. You may also need a witness and there will be a fee to pay.
A list of possible requirements.
Valid U.S. passports.
Copy of the U.S. passports.
Birth certificates.
Divorce decree (where applicable)
Death certificate (where applicable)
Parental consent (If either you or your partner are under the age of 18)
Affidavit of Eligibility to Marry.
Blood or medical test (possibly)
Websites of U.S. Embassies, Consulates, and Diplomatic Missions
Marriage of US Citizens Abroad
Getting married in another state
Of course, the United States has it all to offer and you don't even have to leave the country to get a real authentic destination wedding feel.
I've looked into the best states to get married in and why in my article here.
 Related questions
Can you say your own vows at a courthouse wedding?
Yes, you can exchange vows, and more than often even write your own. Phone the courthouse to enquire to be sure.
Why have a city hall wedding?
Many City halls offer the chance to get some really beautiful pictures, as the buildings are generally beautiful.
A city hall wedding is budget-friendly, at only a fraction of the cost of a traditional wedding.
It's short and sweet
A city hall offers an opportunity to have a stress free wedding.
Many people today don't want the hassle of a traditional wedding.
More money will be available to spend on the honeymoon.
The best time to get married in a city hall
Generally, the busiest hours are between 11 am and 2 pm. If you want to avoid the crowds, go in the morning or late afternoon. Most people have left by 3:30 pm.
What can I wear instead of a wedding dress?
The options are endless for a city hall wedding, and you are free to choose to go in whatever you choose ( with discretion in mind). If it's an unconventional wedding dress you choose, the most important thing to consider is, 'does it make you feel beautiful?' 
Go for a splash of your favorite color or opt to rock it out in black. Floral prints are very popular at the moment, as are chic pantsuits, and two-piece outfits with a full skirt.
For simple yet pretty, try a dress with a high-low hemline, or make it fun with something short and cute. You could even just buy something gorgeous, that you'll love for many years to come, from your favorite clothing store or brand.