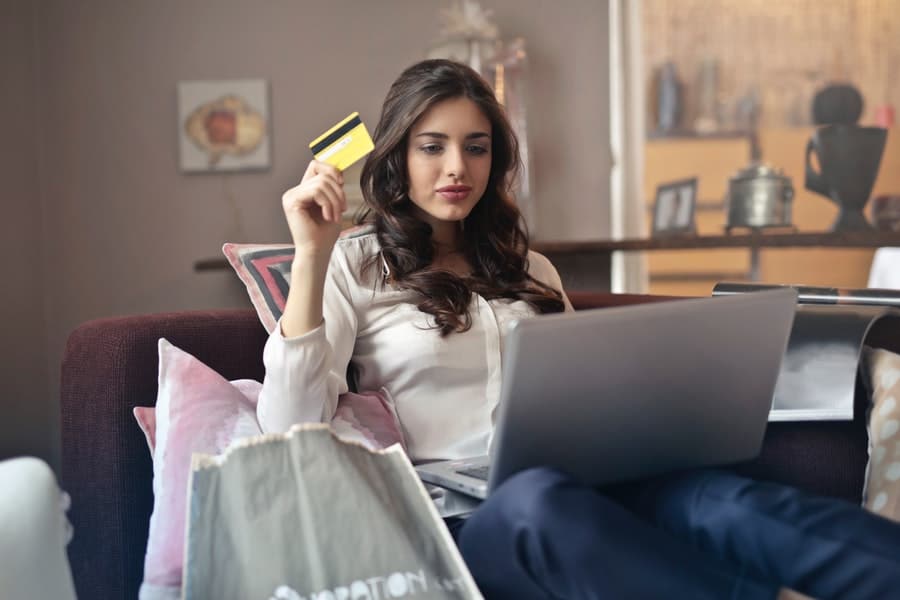 Buying a wedding dress online is a cost-effective and underrated way to find your perfect wedding look. While online shopping for your big day can be nerve-wracking, there are plenty of ways to ensure that you get it right. Follow our tips (mainly my wife's input here!) to say yes to the perfect dress.
To make sure you're happy with the dress you pick, you need to know what styles look the most flattering on you, your measurements, your favorite fabrics, and a good alternations shop. You should order a year ahead to be safe, and do your research on the best and most reliable online shops for wedding dresses.
There are many things to think about when choosing your perfect dress. Here's our complete guide for the pros, cons, tips, and websites with ordering your wedding dress online.
Perks of Buying Your Wedding Dress Online
It's increasingly common for brides to shop for their dresses online. Online shopping is convenient, cheaper, and affords you many more style options. Especially if you live in a small town, where shopping for dresses can be limited to those one or two wedding shops in your area. In today's digital age, online shopping just makes sense.
It's just less intense
The convenience of shopping online for a dress is very alluring. Instead of spending an exhausting day trying on dresses, you can shop from the comfort of your own home.
Going in stores to try dresses is often a very emotional experience with a lot of outside pressures. The clerk is trying to make a sale, your mom loves a dress that you hate, and the dress you love best is out of your price range.
Shopping online can diminish all of these problems. If you would still like your mom or best friends around while you make the big decision, they can help you narrow down your options after you pick out three to five favorite dresses.
If you'd like to shop in peace, you can choose your gown and hold a viewing party once it arrives. This will mean no arguments about which dress looks best, but the special people in your life can still enjoy the "ah!" moment of seeing you in your dress for the first time.
You're not on show
People who tend to be shy or do not like a lot of attention may not like wedding dress shopping. Standing on a platform, being dressed in your undergarments by someone else, and modeling dresses for an audience can be anxiety-inducing. For brides who feel this way, online shopping is a great alternative.
It's going to be cheaper
Shopping online for dresses is often cheaper than going in-store. If budget is an issue, you have a wider variety of stores and dresses that are within your price point. The worst feeling is going to a bridal store only to discover that there are only two dresses that are within your budget and you don't love either of them.
While it is possible to just pack up your things and make an appointment at a different store, it's much easier and less of a hassle to shop online.
Shopping online makes it possible to compare price points for similar dress styles. You'll be able to get the best bang for your buck. You can find wedding dresses online for as affordable as $50 USD.
People often think the more expensive the dress is, the more beautiful. This is an outdated notion that is not true at all. You should be able to have a beautiful wedding without breaking your bank and look your absolute best while doing so.  If you'd like some recommendations for some affordable wedding dress websites, scroll down to the "Recommended Websites" portion of this article.
There's more choice
With the Internet at your fingertips, you can have an almost unlimited option of wedding dress styles to choose from. There are ball gowns, empire, sheath, dropped waist dresses, and many more.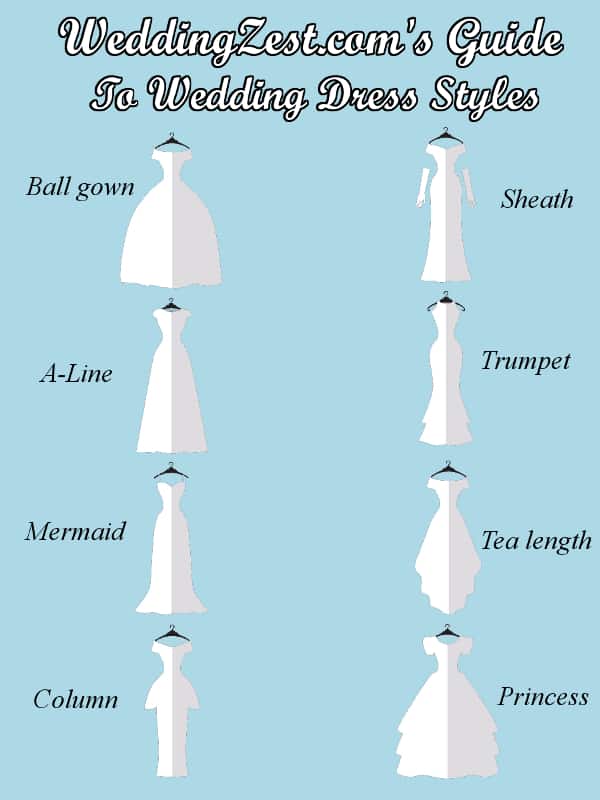 There is a flattering silhouette for everyone and you'll have more luck finding the perfect dress when you can browse hundreds of options. 
Downsides of Online Shopping for Your Big Day
Shopping online can be a nerve-wracking not to mention an overwhelming experience. You may not get a dress that looks exactly like you pictured it from the photo. Let's face it. Shopping online sometimes comes with its risks! But, by thinking through all the cons of online wedding dress shopping you can minimize your stress if you do decide to go the digital route.
Too many options
While having hundreds if not thousands of dresses to look at with the click of a button can be exciting, it can also be extremely overwhelming. The models chosen for the dresses make the dresses look immaculate, so it's easy to look and feel like you love each and every dress.
Online shopping can take a long time if you are someone who likes to browse through all the options. Luckily websites have a way to narrow down the options you see based on color, price, and style, but if you don't know what you want before diving in you could be in for a trying experience.
Looks can be deceiving
There is never a guarantee that the dress you see in the picture will look like the exact dress that lands on your doorstep.
It is extremely important to do your research on websites before you decide which company to buy your dress from. If you prefer to get your dress from an independent seller such as on etsy or ebay, make sure you are buying from a reputable seller.
If the seller does not have any reviews do not buy the dress. You can minimize your fear and the likelihood of buying a dress that isn't what you imagined by reading up on websites and customer reviews.
The only caveat to this is that when dealing with a local seller on eBay or, say craigslist, you have the option to see before you buy in many cases. You can just say, especially with eBay, that you want to see it and you'll buy it there and then in front of the seller if you do like it.
Getting the right size
Almost every bride gets alternations on her dress, and alternations can get expensive. Make sure you know your sizing well so you know what size to order. Not being able to try on the dress before it comes can increase the risk of having a lot of alternations to do.
It would be a shame to save money on an online dress but end up spending even more money on alterations. Read customer reviews to see if the garment is true to size, small, or large.
However, in an industry such as this, reputable websites are used to the needs of their customers and usually provide excellent information on measurements. It's just your job to make sure you are using the correct system when you measure yourself for the dress. Don't confuse inches with centimeters or something like that!
Tips to Get It Right
An online wedding dress gone wrong can be avoided with proper planning. Here are the best tips for making sure you get it right.
1. Know Your Measurements
You will have a much greater chance of ordering the correct size if you know your body measurements. All wedding dress sites have a measurement guide. Trust that guide.
If the measurements they list show you are a size up or down than usual and you are tempted to get your normal size, do not. The website knows it's products better than you do. Choose the size that fits your largest measurement. Your dress will probably need to be altered anyway, and it is much easier to alter a dress in than out. For a guide on how to measure yourself, watch the short video below.
2. Think in Wedding Dress Sizing
Wedding dress sizing is different than buying your average sundress. If you are buying a dress that has been used before (from eBay or some similar site), make sure they give you the measurements and not just the size.
Often sellers will list the size but not account for any alterations made. If only the size is listed but you love the dress, message the seller for the specific measurements in order to make sure you'll fit the dress.
3. Know Your Body Type
Ordering a dress online means you won't be able to try it on before you buy it. There are many wedding dress silhouettes that complement different body types. Make sure you know what your body type is so you have a greater chance of looking amazing in the dress you pick out.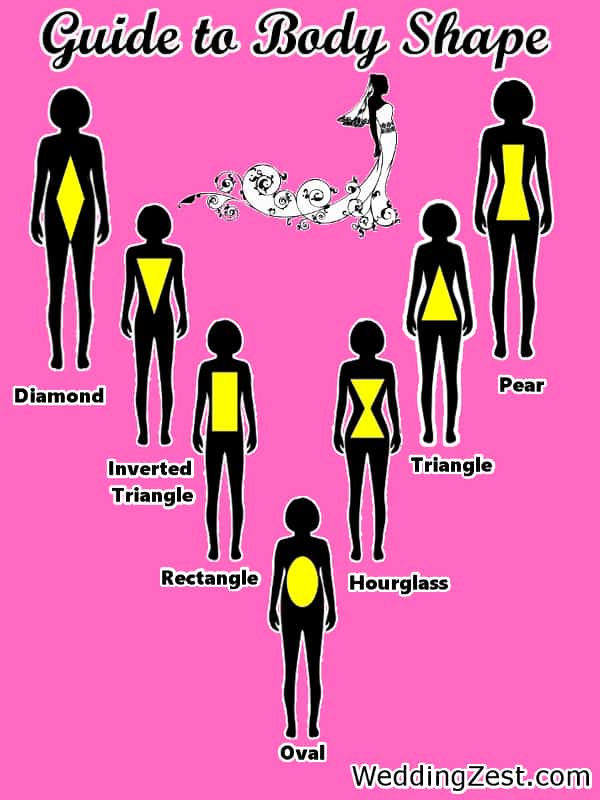 Body type
Widest
Measurement
Narrowest
Measurement
Diamond
Waist
Shoulder – Bust – Hips
Inverted
Triangle
Shoulder – Bust
Waist – Hips
Rectangle
Shoulder – Bust
Waist – Hip
/
Oval
Waist
/
Hourglass
Bust – Hips
Waist
Triangle
Waist -Hips
Shoulder – Bust
Pear
Hips
Shoulder – Bust – Waist
4. Know What Silhouette Looks Best on Your Body Type
Now that you know your body type, it's time to figure out which wedding dress silhouette looks best on you. You are obviously welcome to choose any dress you like best regardless of it is the recommended silhouette for your figure.
Dress type
Body Shape
Ball Gown
Pear – Oval
Dropped waist
Hourglass – Diamond –
Inverted Triangle
Sheath
Rectangle
Trumpet
Inverted Triangle – Hourglass
Empire
Rectangle -Triangle
A-line
all body types
Mermaid
Hourglass
5. Know Your Fabrics
A dress can look beautiful online but when you purchase it the fabric texture and stretchiness are not what you imagined. This can be avoided altogether if you are familiar with fabrics. Spend some time in a fabric shop near you to get used to what different fabrics feel like.
Many popular wedding dress fabrics include satin, chiffon, tulle, and lace, but there are many more.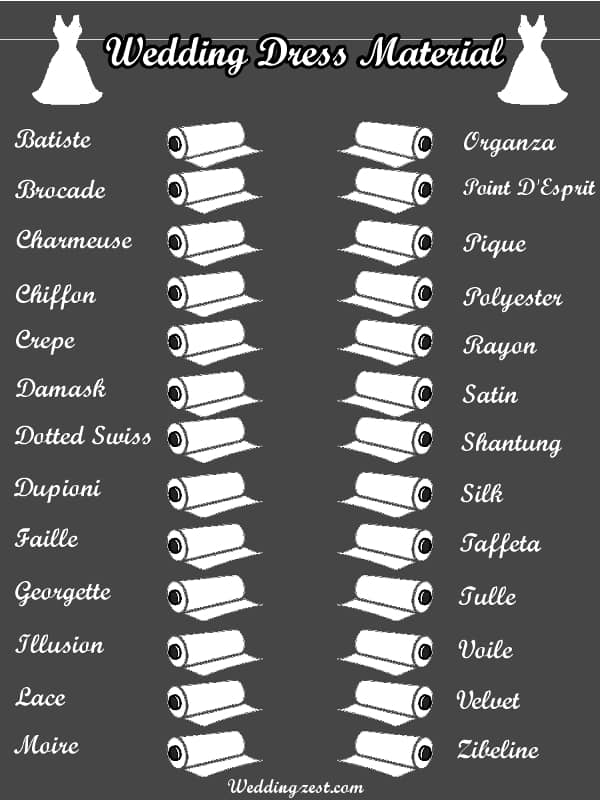 6. Order your Dress With Plenty of Time to Spare
You must order your dress at least nine months in advance. A year is recommended, but nine months can go by in the blink of an eye. Ordering far enough ahead allows you the time to return the dress and order another if the first doesn't work out.
It also will give you plenty of time for alterations. If you order far in advance it cuts down the stress you will feel in the future if there is something you'd like to change about the dress. Do yourself a favor and cut down on your own stress by being proactive.  
7. Read Product Descriptions
Even if a dress looks like your dream come true in the picture, make sure to read the entire product description. Although this can be arduous, it ensures you are getting exactly what you see. The description can tell you important information about the sizing and fabric of your dress.
If you find yourself on a scammy website, you can quickly realize if their dresses are not what they seem by reading the description. There are horror stories of brides ordering full-length dresses that came in the mail as a mini dress. Make sure this doesn't happen to you by being as detail-oriented as you can.
8. Research the Store
When choosing what store to buy your dress from, research, research, research. Make sure their website looks reputable. Read online reviews of products and search for forums so you can read advice from others who bought their wedding dresses from the same company.
You should also make sure to understand the store's return policy back to front. A dress that looks amazing may not be worth it if you cannot return it. Shipping costs are also an important consideration. A site's dresses may look cheap until you realize that shipping doubles the cost of the dress. Do your research ahead of time to avoid being disappointed in the future.
9. If You Like It, Buy It
Like we mentioned before, more and more brides are ordering their dresses online. If you find a dress you love you need to act quickly to ensure it will be yours. While it is true that online stores often have more stock than physical stores, it does not mean that this stock is never-ending. If you are on a popular wedding website or you know the dress is a hot commodity, make sure to act fast.
10. Ask Questions
Even though you are not in a physical store to try on your wedding dress, you can still ask questions. Message the seller or the company to ask specific questions about the dress you have your eyes on, shipping times, the materials, and the return policy. Never be worried about bothering the seller. It is their job to answer your questions about their product and put your mind at ease. You can never ask too many questions, especially regarding such an important purchase.
Also, don't be afraid to jump on the phone and actually chat with the store owner or staff members in real-time. A 5-minute conversation could save you hours, weeks or months in the future when it'll really count.
11. Try on Your Dress Properly
If you've already decided on your perfect dress and are waiting for it to come in the mail, it is important to try it on properly when it arrives to see if it is the dress for you.
Make sure when you take it out of its packaging that you have a clean surface to place it on like a freshly made bed. Ensure that your furry friends are out of the room. You don't want any fur or anybody chewing on your gown!
Ask a trusted friend or family member to help you try on your dress. If the dress has a back zipper you should step into it, and if it has a side zipper pull it over your head. Let your helper zip you up, making sure they clasp the top before zipping if applicable.
Make sure that you perform all the movements you'll be expected to make during the wedding ceremony such as walking, sitting and even a little dance. This will help prevent some unwanted surprises later on when you can't physically do something in your beautiful gown.
Now that you've tried on your dress correctly you can decide what alterations need to be made and if it really is the dress for you. 
Recommended Websites for Wedding Dresses
Merely googling "wedding dresses" yields tens of thousands of results, so we've compiled a list of great websites you can feel confident ordering your dress from.
1. BHLDN
BHLDN is Anthropologies' wedding dress line. The website is extremely popular and dresses range from $250 – $4,000 USD. If you have a bit more to spend and are looking for a trusted and popular company, BHLDN is the shop for you.
2. Floravere
Floravere has taken a lot of the anxiety out of purchasing the right size dress with their sample size policy. They allow customers to purchase a sample size 0-24 to be shipped to your house before you commit to the size. This popular website ranges in price from $505-2,600 USD.
3. Etsy
Etsy is a website for independent sellers, which offers a huge variety of affordable wedding dresses. There are casual looks, bohemian, traditional, vintage, and more. Make sure you research each seller well before purchasing. Etsy dresses start at $150 USD. 
4. eBay
Like Etsy, eBay offers a large variety of dresses due to the large number of independent sellers. You can easily get a beautiful lightly used gown from eBay and no one would be the wiser. eBay is an amazingly affordable platform, with dresses starting at $50 USD. Make sure to message the seller you are buying from to get clear details about sizing.
5. The Outnet
The Outnet is a great website for brides wanting a designer dress on a budget. This site often has great discounts, so check often to get discounts up to 50% off. Search by style or designer to more easily navigate the website. The Outnet dresses range from $200-10,000 USD.
Nearly Newlywed offers many beautiful dresses for an affordable price. The website is easy to navigate, offers clear sizing details, and is a popular and reputable website. There are many different silhouettes to choose from in their diverse inventory. Nearly Newlywed prices range from $200 – $5,000 USD.
So, how about it? Are you ready to dive into the realm of online wedding dress shopping? If you are, make sure to have fun, relax, and most importantly congratulations on your special day!