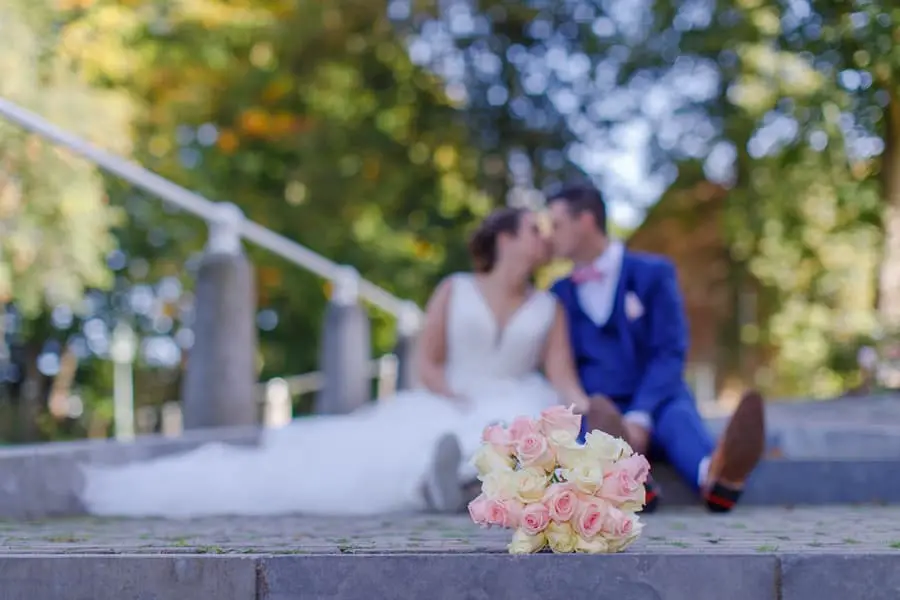 Dancing is not the only option for an activity at a wedding.  It seems every wedding follows this tradition, but this is not for everyone and nor should it be. 
Not everyone can or wants to dance at their wedding. You don't have to and you shouldn't feel bad about having a wedding without dancing. There are a lot of options for things to do on your wedding day that don't involve dancing.  You and your guests can have just as much fun doing other activities.
We now the ability to rent or purchase almost any type of product and service. Your imagination is the only thing stopping you from your danceless wedding. 
Why do people have a wedding without dancing?
There are many reasons that people want to have a wedding without dancing. For one, they want to be different and step outside of the normal wedding playbook.
For some, it is a staple, but others it is getting stale. Another reason may be that the couple or someone close to them does not have the ability to dance. They may be in a wheelchair or have another ailment that restricts movement. 
The last major reason could be for culture/religion. In many parts of the world, it is considered rude to have dancing at such events. Also, some major religions forbid it. By not having dancing, you are being more inclusive and not having people who feel left out. 
Ultimately, you want a focus for your wedding which can bring all your guests together and make a lasting memory for all. So, if dancing isn't your bag, you'll need to start thinking outside the box. Luckily, I'm here to help.
Here are 25 surprising things for making your wedding fun without dancing. 
1: Backyard Games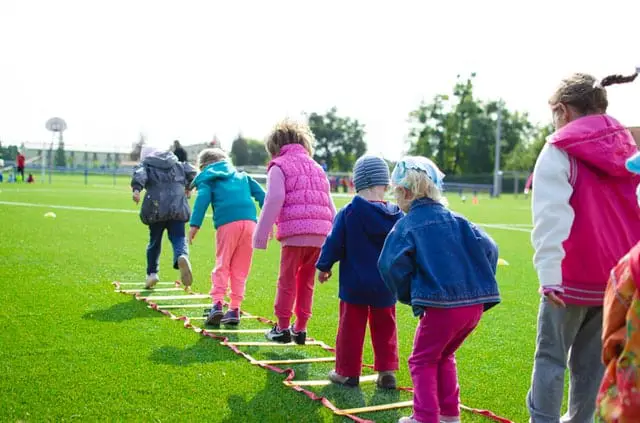 Who doesn't love to play them? You could have multiple types of games. There is always something that suits everyone.  This could be done almost anywhere and could be fairly cheap if you already have the equipment or can borrow from friends. 
If someone is not particularly interested, they could always help out with something or just relax. The other great thing is this could easily be made kid-friendly and you wouldn't have to worry about entertaining them. Some amazing games are, but not limited to are horseshoes, giant Jenga, beanbags (cornhole), can jam, ladder ball, bubbles, ring toss, bocce ball. If it rains you could always have most of these indoors. 
Other options are to have a kid and adult-friendly adventure park created with assault courses and perhaps a bouncy house. Of course, you'll have to organize for everyone to wear appropriate clothing or make the games fit your chosen dress code.
2: Hotpot
It is common around the world to cook your food when you go out to eat. In places like Taiwan and China, a famous dish is hotpot.  With this, you can have many options for people to cook meat or vegetables in boiling water.
The guest can customize it any way they like. The food can be savory,  spicy, vegetarian, or even vegan, the options are endless. This is a great way to introduce people to your local culture or a new one and you could even have chopsticks, which are even more fun.  You could go to the restaurant where they take care of everything or have these at your venue. 
Another spin on this idea is to have helpers who will explain the process and give guests some information about what they are eating. It certainly gives people a talking point and makes any wedding supper more communal. Something like this is ideal if you don't want an extended wedding reception, so the main event really is the food.
3: Korean BBQ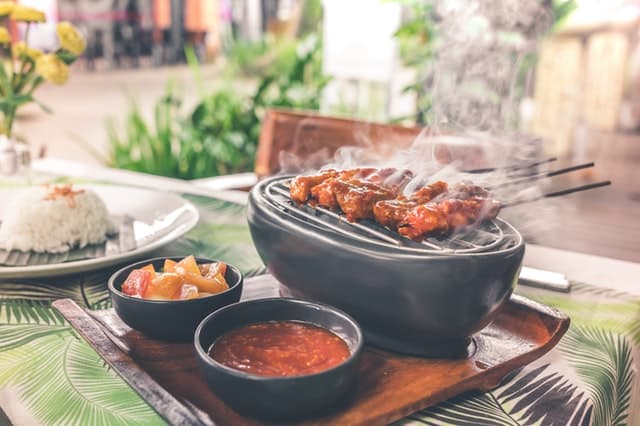 This again is a great way to get people together interacting without dancing. Korean BBQ is similar to regular BBQ, but with smaller grills and people are usually sitting around a table.  You also cook, cut and serve it all yourselves. It is a team effort.
The table has a lot of side dishes such as steamed egg and kimchi. It uses different cuts of meat and vegetables that people may not be used to, so it can be a great cultural experience as well. It could just be adapted to using regular grills and people still could use it that way.  It is also easily vegetarian and vegan adaptable. 
If you like the idea of a BBQ wedding but aren't too sure about the Korean theme, you could also do something similar with more American ingredients. The kids at the very least will love this, especially if they get to help cook (with close supervision of course!)
4: Volleyball, Kickball, Softball, Football
These are just a few games that can be easily set up, that all can play. Team games are a way to bring everyone together while doing something fun. The wedding could also be at one of these venues, and if the couple and their families love one these sports it could make it that much more memorable.
You don't just have the option to play the game you could go to one of them and have the wedding there.  Most sports teams, especially minor league ones would be happy to have a ceremony or for you to be acknowledged during the event. Minor league baseball games in the summer could be a perfect place. 
5: Board and Card Games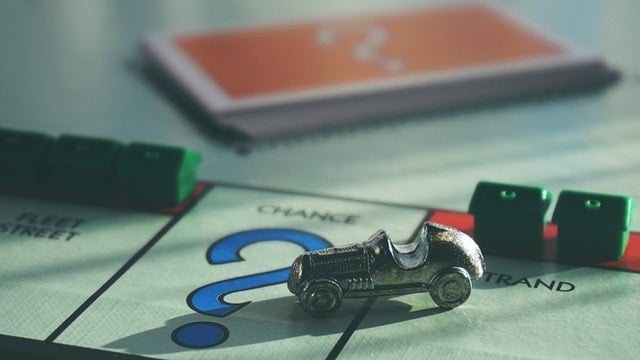 Board and card games are making a big comeback. You have the choices of quick simple games or ones that could take up a few hours. The ability to get different types of games is quite accessible nowadays. 
Game clubs and shops have options that you can purchase or rent the games. One could even hire a professional to come and explain the rules and how to play to your guests. This option is adaptable to anywhere and has an easy setup/cleanup. It is also inclusive of all age groups and can be done anywhere. 
6: Murder Mystery
If you and your guests love a puzzle, then organizing a murder mystery wedding could make you the talk of the town. This can be done in several ways from hiring actors (or recruiting friends and family) to act out scenes that the larger congregation can use to solve the case to including everyone.
If you are going to have a smaller wedding, giving everyone a role in the mystery night is not only possible but likely to make the event even more enjoyable. You can purchase entire scripts online including audio files if needed or even write your own story.
7: Scavenger Hunt
This could be a traditional one where people go out and look for objects or a more updated version.  You could not only have them find things and or get people to do things on camera (within reason) ie. Take a photo hugging a fireman. But you could ask questions as well. Such as "What is the groom's favorite food?, Find a woman wearing a hat of the couple's favorite football team?" etc.
You can really have fun with this. Depending on the location and venue you may want to have a backup plan in case of inclement weather. At the very least, this is a great idea for younger guests who may not find other more traditional wedding proceeding so entertaining.
8: Indoor Games
If you are having an indoor wedding without dancing, try games. Ping-pong (table tennis) tables can be rented, bought or borrowed easily.  If you want to have more variety, foosball is another game that takes up little space.
Bean bags (corn hole) can be played indoors as well. Dartboards and pool tables are also classic entertainment. These games can also be turned into different ones when adult beverages are brought into the mix and the situation calls for it. Beer pong and quarters are two games that are easy to play and can also be adapted to use water.  These games could also be at a special venue or brought to your own venue very easily.  
9: Live Entertainment
Is something that people usually only see at festivals, amusement parks, or the circus. Having a fire spinner, acrobat, contortionists, or a magician could really make it a special event. My sister hired a guy to walk around doing card tricks and it was a great way to keep guests entertained before and after dinner.
So yes, they could be walking around at a larger venue or it could be set up as a show.  All of these are great for all ages and are adaptable to any venue indoor or outdoor alike. If you have the right crowd and venue a comedian would be a special touch that is not very common at weddings. You may even have friends that could help you out. 
10: Live music concert
Although the aim here is not to get people dancing for whatever reason you may have, it doesn't mean you can't have music.
Hiring classical musicians will give your wedding a sophisticated air and it's extremely appropriate if you and your spouse have a particular love of this genre of music. Also, a really good musician or group of musicians can be very impressive when they play classical pieces of music live.
Another option is to hire a single musician rather than a full band or DJ. Here people may be more inclined to listen than get up and dance, especially if they are playing acoustic covers of popular songs.
11: Theme park/Laser Tag/Paintball
Get the group out and doing something that is different and exciting. Shooting paintballs/lasers and rollercoasters are rarely something that people think of when they hear the wedding.
People always want to do these activities, but don't have the time. When they do have time, they usually are not with all of their friends and family. They also have great venues already, so you don't have to choose a place.  You may want to have a change of clothes or a more informal dress code for these and have it after the ceremony in case of an incident. 
12: A Picnic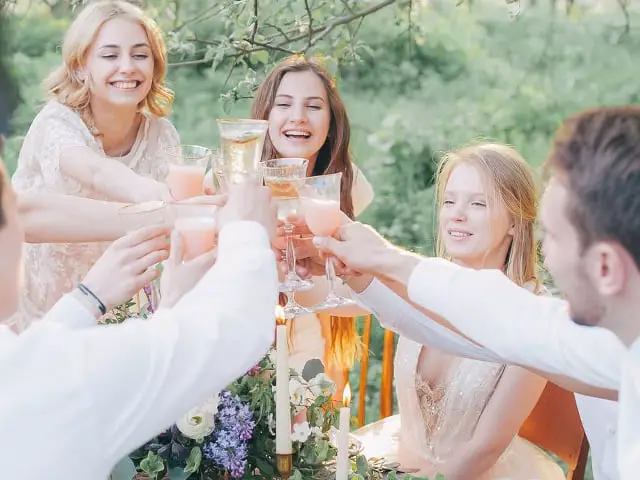 Having a picnic is a nice way that people can spend the day together without dancing. This gets people outdoors and weather pending, they have a lot of options of things to do.
With this option though, I would choose a day or time, in the right season. You should also have a tent or a backup location, so the guests can stay out of the weather. You can look at the other options such as backyard games, laser tag, hiking, and other ideas to merge with this one. An interesting idea is beside the food you provide, the guest could bring there own like a traditional picnic. 
13: World Cup/Superbowl/Oscars
Most weddings are on a Saturday, during the afternoon. By having it during one of these events, people are always ready to travel and go to parties for these types of events anyway. Making it a combination event can be more memorable and fun for all.
It doesn't even have to be one of these events, choose what is best for you and your wedding.  You could have the ceremony beforehand and/or food beforehand and when the event starts the day will take care of itself. Most venues have TV's or a projector that can easily be used.
14: Arcade Games
They are multi-generational and can be brought to any type of venue. With different types of games, people could play together or by themselves.  You could even have a competition and see who could get the most high-scores on games by the end of the wedding.
If someone really needs to dance,  Dance Dance Revolution is always an option. You could even have it at the arcade, where they usually have facilities and rooms for rent. This idea is also great to combine with the indoor games and then for sure, everyone will thoroughly enjoy themselves.
15: Lounge/Reading Area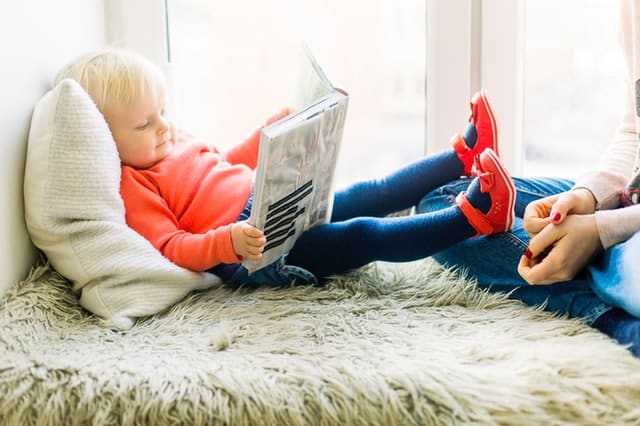 This one is something that all weddings should have regardless of where or what else you are doing. Not everyone wants to be in a crowd or is comfortable around people all the time.
Having a designated area that people can talk to one another and relax is important. You could put some books, poetry, comics, children's books, etc. around. It could really lighten the mood and give people space they sometimes need. This could also be good for kids (or adults that had one too many) who may need to nap for a bit. 
If you want this to be more inclusive, you could organize a book reading. Make sure you choose someone with a lovely sounding voice and get them to read a story of your choice. It could be a romantic tale or ghost story or even some of your favorite religious stories. Involving your guests is also another way to make reading a fun and inclusive wedding day activity.
16: Questionnaire
How well do your family and friends know you two? How well do they know each other? With this fun activity, they can get to know you and your partner a bit better, while having fun finding out the facts.
You could ask questions like "Where do you first meet? What was the first thing you bought together? Which one is more likely to eat the last piece of cake?" You give out slips or sheets of paper and have the guests go around and ask one another what they know.  This is could be fun for them to get to know each other as well as interesting things about the couple and their history together. 
17: Wedding quiz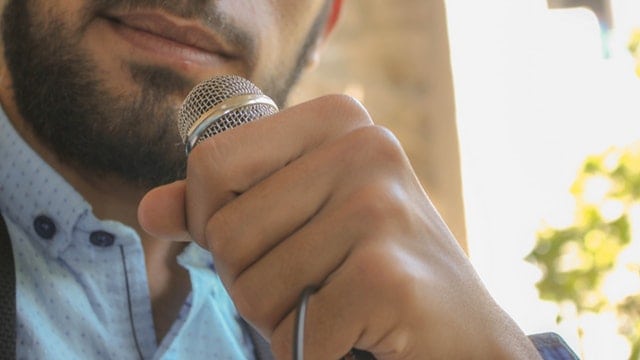 If like me, you like showing your general knowledge off, then a wedding day quiz can be great fun. You can bring each table at your wedding reception together by making them a quiz team and pitting them against each other.
In order to make your guests excited about participating, make sure that there is a good prize or even a forfeit. This should focus their minds and get their heads in the game. If you are stuck thinking of quiz questions, you can find plenty online, find a mobile app or just raid the trivial pursuits box in your attic.
You can do a lot of things with trivia. There will be a lot of different families at your wedding and you are making a new one. It could be a big event where each table or person plays during a special time.  Or an area that could be going on throughout the wedding and people could join in at different points. The question topics could be general knowledge. But for more fun, it could be about the couple and their friends and family.  The prizes could be fun items from the wedding or just for pride. A proper quiz master could also make it more interesting and your life easier on your big day. 
18: Coloring Books/Table/Mural
Coloring books are not just for children now, they have adult books that range from artistic to a bit on the unrefined side. You could have these in a special area or just on the tables. By having a table cloth you can write on or paper on your table people could color on it if it doesn't get too messy you could take it home as a keepsake.
An amazing way to bring people together is a mural. Your guests can color on a large piece of paper to make something or just write something nice. This you can take it home after the wedding as well. 
19: Wine/Beer Tasting
Adult beverages tend to be a part of weddings and this would allow your guests to choose the one that they like.  They may even find a new beverage that they enjoy outside Barefoot wine and Budwiser (not that anything is wrong with those two).
You could pair this with different types of food to show off the highlights of each drink. With the constant increase of high-quality micro-breweries/wineries out there, you have a lot of options.  You could get someone from the company to come or even cater the event to explain the drinks to people. Having some other beverages for the teetotalers is also a nice thing todo. 
20: Karaoke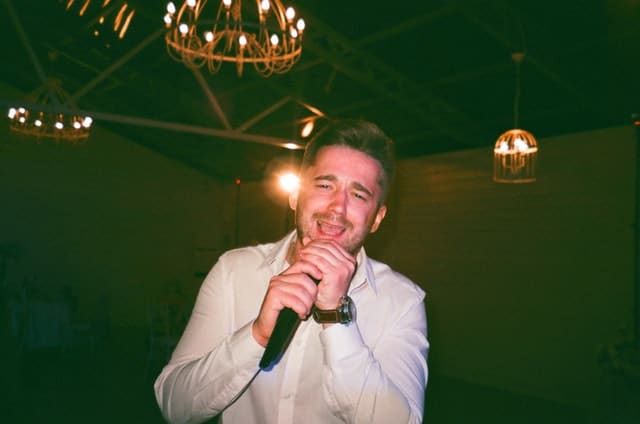 As much as people say they do not like to sing, they do. This is also a definite way no one will even think about dancing.  The setup is fairly easy, all you need is a microphone, speakers and a computer if you want to DIY. You could have it western style, out in the open for all to watch and partake. Or more like in Asia, where they have booths and small rooms for people to break off to if they are shy but still want to sing. This mixed with a pairing of wine/beer and you will have instant success. 
21: Walking/Hiking
Simply taking a walk on the beach or through a park could be a memorable event. It could be nice if you had a different part of the wedding at a location, then everyone walked there and if possible a different for return. For the more outdoorsy people, this easily could be adapted to hike if you had the venue and people up for it.
Timing this again with the seasons and weather would be crucial.  If you have any elderly guests, handicapped or little ones you would need to think about transportation to the location. 
22: Swim/Jacuzzi/Steam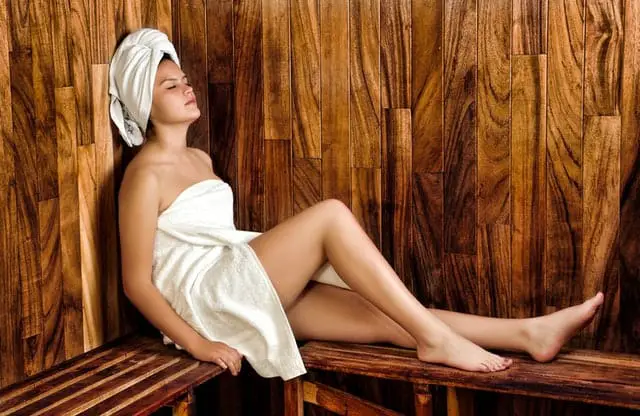 Another non-traditional thing to do instead of dancing is to go swimming.  Everyone can throw on their bathing suit and hop into whatever body of water you have. This could be a lake, river, pool or even the ocean. These places can also double as a great venue.
The ceremony would be lovely at these outdoor locations.  You can have games like chicken, racing or breath-holding contests. If some don't want to swim and just relax, they could go into the jacuzzi/ steam room. Please do have some lifeguards present and be careful if alcohol is involved. 
23: Casino
A casino doesn't seem possible to have, but it is much easier than you would think. One way to do it would be to give everyone tokens that they could use throughout with no monetary value. This keeps it fun and light.
If some were so inclined to gamble with real money, I'm sure that it could be done and the winning goes to a charity of couple's choice. The dealers could be hired or friends and family for more fun.  You could even have the wedding in that theme from the table settings to your dinner tables.  
24: Go-karting
If you and your spouse like action-packed days out, why not make your wedding day one of them? After you have tied the knot, you can get behind the wheel and race your guests around a circuit.
Although certainly not a traditional approach to the wedding reception, this will be one that your guests aren't likely to forget in a hurry. You can also substitute the go-karts for dirtbikes, ATV or quadbikes if you like close to an outdoor track. Of course, this depends on the weather and skills of your guests.
25: Ice Skating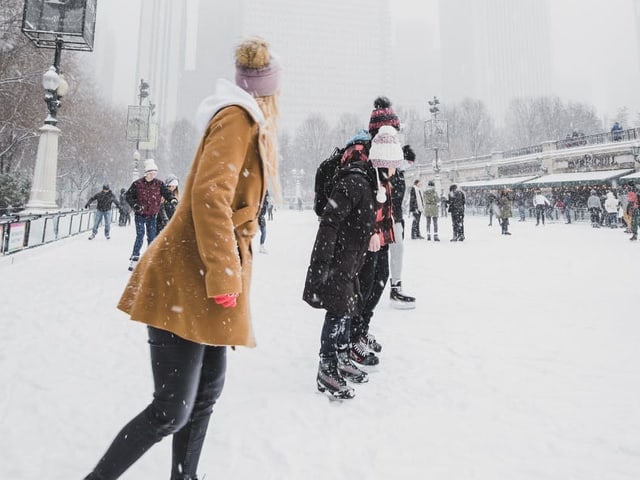 Another active but perhaps less extreme after-dinner activity is to take to the ice and slide around with your new spouse and guests. This can be a truly magical experience and really fits a December wedding (If you haven't considered a winter wedding, read my article on why you should).
For non-skaters, you can either offer coaches or organize activities for them to take part in around the ice rink. Of course, this is a great idea if you have lots of children in attendance. Their parents will thank you for tiring them out before they go home.