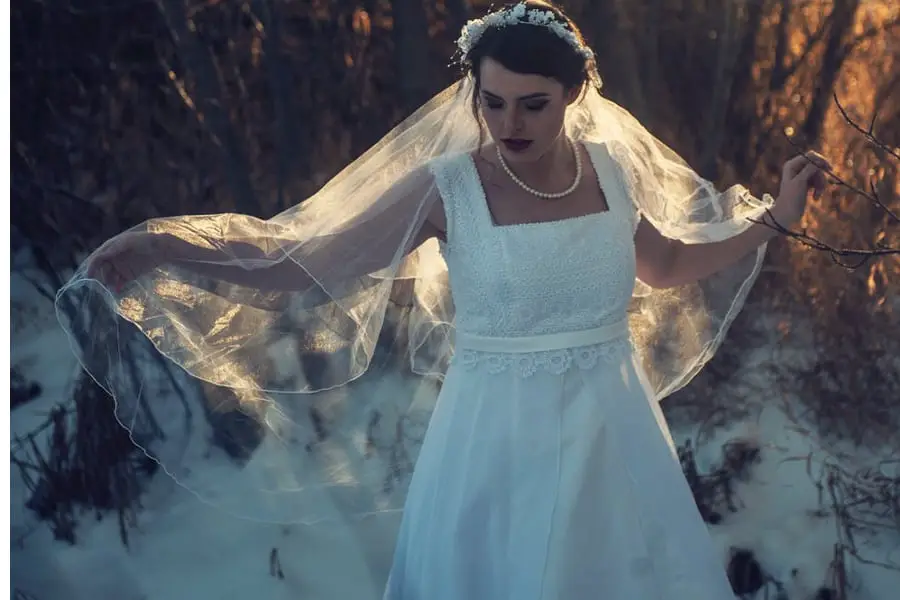 When you picture the perfect time to have a wedding summer comes to many of our minds, but do not brush off the idea of a December wedding.
While it might be nice to frolic in the sunshine and take pictures surrounded by lush greenery, discounting out a brisk wintery wonderland as the ideal backdrop for a wedding could be a mistake. There are so many hidden and surprising benefits to having a December wedding.
So, what are the actual benefits to a darling December wedding in the heart of winter (sorry Australia!)?
December is an ideal time for a wedding as family and friends are often in town and in a festive mood. Gift-giving is already in the air as is the holiday mood. Stores are busting with cheap festive decorations and many wedding venues and professionals will be available to hire at a better rate.
If you are anything like me, you will picture Phobe and Mike from that iconic series Friends getting married in a snowy New York street when anyone mentions a winter wedding.
The romance of it all can only be topped by the ease and individuality such weddings bring. So, read on to find out why you should definitely consider emulating Lisa Kudrow and Paul Rudds's on-screen marvel.
There are five surprising hidden benefits to having a December wedding, a couple more you haven't thought of!
It is the Gift-Giving Season
When you hold your wedding in December, it overlaps with Christmas and Hanukkah, two of the biggest festivals of the season.  Why is this a good thing you ask? Well, think about the amount of wedding swag you are going to receive.
Your wedding guests are going to give you a wedding and Christmas gift wrapped into one. Your close friends and family will combine their Christmas budget and wedding gift budget together and give you something super nice.
Your not-so-close friends, who you have not seen in a while but are you are inviting to your wedding, are the jackpot. They will feel guilty about not giving you Christmas presents over the years and splurge a little on your wedding gift. They need to make up for all those years of slacking off on the Christmas spirit. Think about all those years that your college buddy didn't even send you a card for Christmas or Hanukkah. Maybe they didn't even call you!  They are going to make up for that in one fabulous wedding gift.
Also, shopping at the year's end is the best time to nab a bargain, especially if you have a wedding after an annual sale. So factor that into the pile of presents you are going to receive.
Do you want a countertop mixer? You are going to get that upgraded commercial model.  Perhaps you will get the 5-quart Dutch oven versus the 2 quart one due to all the alluring promotions available to December shoppers. If you send out your invites early enough, you are going to be the beneficiary of Black Friday and Cyber Monday too. So, crank out that guest list and let the holidays be bright. 
Sweat or Lack of it
While everyone looks great in all those summer wedding photos, I am sure they do not feel as fresh as they look.  Think about it. Who wears a tux outdoors in summer?
People at weddings that have no other choice, that's who! I have been to summer weddings dressed to the nines and covered in sweat head to toe. My own 'official' wedding was in Hong Kong in June, man that was tough!
Good thing most tuxedos are black and hide sweat stains. Ladies, you are not off the hook either during a summer wedding.  Brides and bridesmaids' dresses are not made to be light and breezy.  They are thick, embroidered, layered sweat factories.  Why stand outside for hours in the sun when you can be cool and comfortable at your December wedding.
December temperatures will not be sweat-inducing in most parts of the USA and in Northern climates. If you are having the ceremony outdoors, that tux will keep you nice and warm not hot and sweaty.  All those extra layers of your bridesmaid dress will add needed thermal protection.  You may have ice in your pits but that's better than a stinky bacteria bath. So enjoy being a bit chilly. Your nose and dry cleaners sure will.
Another reason a December wedding will produce less sweat is that it will most likely be indoors for the most part.  The good thing about an indoor wedding is climate control. Let the HVAC system make your wedding venue the perfect temperature.  It is easier to heat a venue in the month of December than to cool it to the perfect temperature in the summer.  When it's blistering hot outside, there is only so much a strong air conditioner can do.  So let that fireplace add ambiance and heat you to the perfect temp.
More Friends at the Wedding
Everyone has some time off in December.  Take advantage of those hard-earned vacation days. The kids are off of school for a few weeks and most employers give their workers vacation days for the holidays.  This means that your friends will be able to attend your wedding.  No more excuses about how they have to work and can't make it. 
Friends who are studying at college can come as well.  Finals are over in early December. So by holding your wedding in December you are pretty much ensuring that most of your friends will have some time off that month to make it to your wedding. You may think having a wedding in December would make travel more expensive for your guests, especially airfare. While buying an airplane ticket in December is not the cheapest month there is a hidden benefit to having a December wedding regarding travel. 
Your friends might make the trip to your wedding a Christmas gift for their families and loved ones. Guess what honey? This year for Christmas we are going to Vermont for some skiing and my friend's wedding! Hey kids, pack your bags we are getting out of this snow to go to my besties' wedding in Phoenix, Arizona.
Having to fork out some dough as a friendship obligation can turn into a 'two birds one stone' situation for the people on your guest list. They have to come to your wedding so why not make it a present to themselves and their loved ones? Travel makes a great gift.
Decorations
If you are having a wedding in December you have to go with a winter theme right?. Think white lights, snow, glimmering bulbs and so on. Guess what is easy to find in December? 
Every store you walk into will be selling lights, ornaments, wreaths, tinsel, glitter, fake snow, bows, wrapping paper, and everything else you could want for a holiday-themed wedding. How easy is it to buy a bunch of huge cardboard boxes, assemble them, then wrap them?  These decorative cubes can cover your wedding venue and add a marvelous aesthetic. And they are light too because they are empty. 
It will be easy to create a wonderful winter-themed backdrop for your wedding. All the materials you need can easily be found at every supermarket or drugstore. They are not too expensive either when you think about how you can replace tabletop fresh flowers with a wreath and some bulb ornaments.  Need a backdrop for photos? Throw up a white sheet bordered with Christmas lights.  Heck, cover the whole venue with strings of lights! The wedding photographer will be in bokeh heaven.  
White table cloths, the cheapest and most abundant table cloth besides black, are really old-fashioned but they totally work with a winter-themed wedding.  Also, you can save all the decorations from your wedding and have all the Christmas decorations you will ever need for the rest of your life. So bundle up those lights and pack those ornaments carefully because you and your future kids will be hanging them on the tree for years to come. 
Imagine the stories you will tell as you hang them every year with your family.  Hey son, that ornament in your hand was on our table during our wedding reception, back when you were just a glimmer in my eye. Hey daughter, those lights you are hanging on the tree lit up our wedding all those years ago and now they are lighting our living room.
While you probably can't keep all the decorations, unless you live in a mansion or something, so you can give the extras away as parting gifts to your guests. Let our wedding lights light your future holidays. I hope they continue to shine on like our love will.
Also, think about all the holiday-themed cocktails you can serve at a December wedding. Think peppermint infused vodka White Russians, yes please! Eggnog with candy hearts, you know that works. Since it is chilly out, break out those cognacs and brandies and garnish them red cherries that match all the red of Christmas. Is there a better time for mulled wine?  I think not.  Also, just make sure you put a candy cane in every drink and you are all good.  Add fun cocktails and lots of mistletoe and your guests will be raving about your wedding for months. Cheesy yes, but it totally works and you know it.
Wedding Professional Availability
Another surprising or hidden benefit of a December wedding is the availability of wedding professionals.  Since December is not a peak time of year for weddings, there will be many wedding professionals available for hire.
You will not have to worry about the best photographer being booked.  Wedding planners will be happy to pick up a gig in December.  Florists will be so sick of making wreaths that they would be happy to do a wedding. 
Also, do not forget about capitalism here. God bless the USA!  Since it's the low season, use that to your advantage.  Let the wedding professionals compete.  Get multiple bids and be transparent about them when you negotiate the price for the wedding services and goods.  Those wedding professionals need to buy presents too, so they will not let your wedding gig slip thought their fingers.  You can very well get a bargain on your DJ, videographer, photographer, florist, caterer, or wedding planner.
Epic wedding photos
If you live in a part of the world which gets the traditional Charles Dickens style Christmas, with snow and everything, then your wedding photographer is in for a treat!
Not only do Christmas decorations with all the lights look amazing for the backdrop to the reception, but there is also nothing more radiant than a snowy backdrop to your official wedding day photographs.
It's just something which is hard-wired into the western culture that most of us probably share, and it's all down to that Victorian writer Mr. Charles Dickens. Because of his works, we see a snowy landscape as both beautiful but also magical. It symbolizes the warmth of humanity and the season of goodwill. What a great accompanying theme to your wedding and new life with your spouse.
But of course, it not just in western culture. While on vacation with my then-girlfriend and her mother (yes I'm a superstar) in Iceland, we were at a beautiful waterfall called Skógafoss in the heart of winter. Low and behold, an Asian coupled arrived with their photographer and began taking prewedding photos for their wedding (This is a tradition in Chinese culture). It was freezing but those photos will look epic!
I just have to say that I proposed to my girlfriend that very same night under the northern lights, but if it wasn't for that couple stealing the limelight I would have liked to have done it there and then. Nevermind, she said yes which is the main thing!
A Sunny Winter Honeymoon
Not only are the wedding professionals going to be more abundant and hopefully cheaper to secure, but the same can also be said of those traditional honeymoon destinations.
If you have always pictured flying out to a romantic one in a lifetime holiday on the evening of your wedding day, then a December wedding could give you more.
If you choose the right destination, you could get to do everything you've been dreaming of at a fraction of the cost and with a lot fewer people hanging around.
Think of a beautiful Carribean island in the off-season. No tourist wandering around to photobomb your cherished pictures, no queues to get into any attractions, no annoying kids kicking sand into your cocktail as they run by on the beach. It sounds like heaven to me.
What's more, if you are planning to travel in the offseason, having saved up your vacation days, of course, you could actually get more for your money and go further afield. Remember, when it's winter in Northern America, it's the heart of summer in South America, Southern Africa, Australia, etc.
So, not only will you show how edgy you are for having a winter wedding, you could brag to your friends and family about a fantastic faraway honeymoon destination which you would never have been able to afford just a few short months later in Summer.