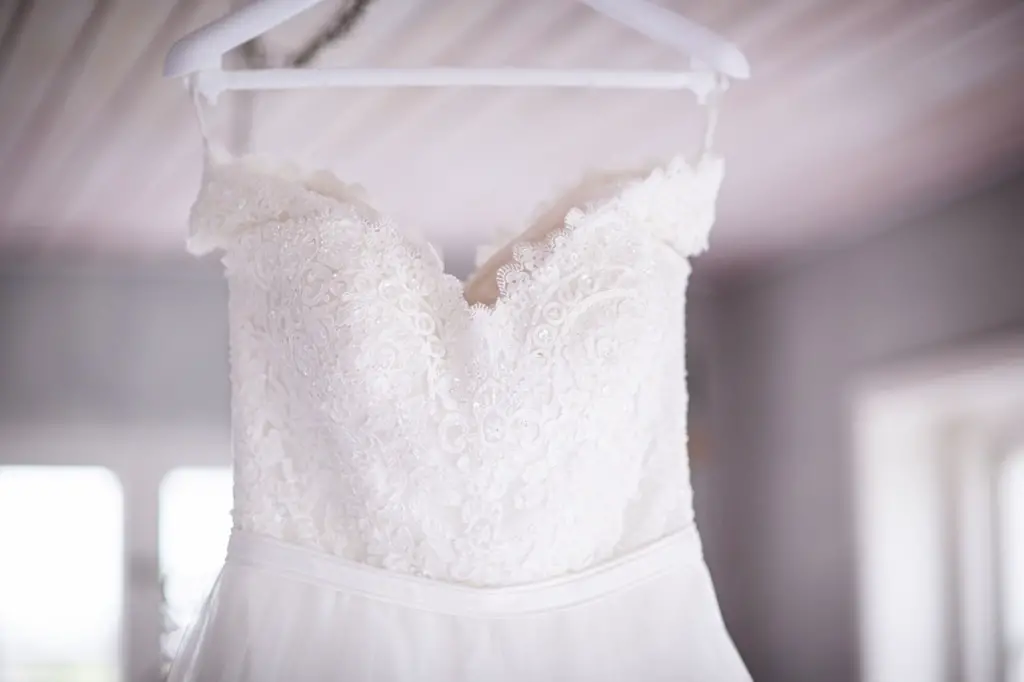 Your special day is perhaps over but you still have a wonderful memento in the form of your wedding dress. The question of what should you do with it when you are already happily married is one that every newly married bride asks herself.
So, what can you do with an old wedding dress exactly?
Most people suggest that an old wedding dress is a valuable source of material for arts & crafts that will hold strong sentimental value. Recycling the dress for another use can be a practical way to use it each and every day. Donating your dress to a charity is also a meaningful use of the garment.
Many brides simply put their dress in a box and store it away, but that's such an injustice to a piece of clothing which gave you such joy. In this article I go through many different ways you can repurpose your dress and give it a new life or memory you'll cherish.
How to use your dress in a craft project
Getting inventive with your dress is really easy and there are so many useful and beautiful things an old wedding dress can become. Here are some ideas to take inspiration from when, and if, you decide to take a pair of scissors the gown of that special day. They include
Making a garter for your daughter (assuming you have one)
Making a decorative throw pillow full of frills
Layering the fabric in a pendant (to keep it close at heart)
Wrapping the vase of your daughter's (or your son's brides) bouquet
Making a quilt (for comfort on the cool winter nights)
Making a christening gown for your child (or for any special occasion)
Mounting it in a frame to be hung as art.
Making a skirt for you Christmas tree
Simplifying it down for future special occasions that might arise
Making a hairclip (or any other accessory you might imagine)
Background for photo sessions for your newborn daughter
Letting your daughter play dress up.
Letting your bridesmaids try it on for their own photoshoots.
Now, not all craft projects require that you chop up your gown to take advantage of all its potential, but some certainly do. So, if you are really set on cutting, snipping, and re-sewing the fabric here are a few more ideas. You could make:
Curtains for a small window.
A bookmark
Matching earrings and necklace
A handbag or change purse
A scarf or boa
Artificial roses or flowers
Doilies or placemats
And, god forbid, rags or dishtowels
Who in their right mind would cut up a wedding gown for rags when you probably have a husband lounging around the living room with a rag for a T-Shirt that begs for the job? Sentiment aside, the cost of a gown can be daunting.
Gowns are Pricey
Foxbusiness.com suggests that the average cost for a gown these days can certainly be expected to sit around $1,100. Those would certainly be some expensive dishtowel that probably won't be able to soak up much water anyways. So perhaps, you might be looking for some ways to get some of that investment back. 
Making some of the things mentioned above and selling them on the public market websites like eBay.com and Artsy.net is certainly an option, as is local craft shows and in your community. However, there might be other considerations too. 
Dye Dress Dye
Iconic wedding dress we know and love today, a white vision which leaves your man transfixed is a fairly new phenomenon. Queen Victoria of British fame was one of the trailblazers of the white wedding dress but even until relatively recently most women took a practical approach to their wedding day frock. My grandmother, for example, married my grandfather not too long after WW2 and she had an everyday but new dress which she wore again after their special day.
One way to emulate my grandmother's canny clothing choice is to dye your white wedding dress another color and to wear the dress again. Of course, this depends on the cut and style of your dress. A very classic wedding dress may stick out like a sore thumb for what it is regardless of the color, but other designs may look very elegant as a newly dyed cocktail dress or evening gown.
Dyeing fabrics can be easily done at home or you can seek out a professional. All in all, this could be a great way of reusing your dress as a practical garment instead of having to dismember it.
Giving but Getting
Preowned Wedding Dresses.com is a commission-free site that is dedicated to allowing people to resell their old gowns. They have buyers and sellers worldwide with filters for the following countries.
United States
Canada
Australia
Europe
"Near me"
They have a plethora of articles to help you prepare, sell, ship and manage your sale. Keep in mind that customers might not only be brides to be but might, in fact, purchase your gown for whatever reason they choose, so this should be considered too.
Being Charitable
Although passing an old wedding dress down to one's daughter is not something that happens very often anymore. (Styles are so different now) There are still options for those that don't wish to cash in on their treasured memento.
AdornedinGrace.org is a charitable site that receives donated dresses then resells them at a substantial discount. The proceeds of the sales are then given to charities that help victims of sex trafficking. If you don't have money in your budget for such a donation perhaps your old gown my fit this niche.
BridesAcrossAmerica.com is another charitable site that collects dresses for giveaways to military and first responder brides. To quote them directly, "Whether it's for love of country or love at the altar, our military and first [responders] deserve our very best."
These two options offer a way to give what you have in a way that you can be certain where your giving goes. 
There is also simply the option of giving your gown to someone you know that needs one, like perhaps, your daughter. 
Mom's Old-Fashioned Gown
Styles do change, as we touched on very briefly above and sometimes that is the main thing holding your daughter back from accepting the "your mother's mother and her mother's mother were married in this dress" hand-me-down. So why not try to utilize it a bit and save some of that hard-earned money for the honeymoon splurge.
If you don't want to go the full hog and actually wear the family heirloom, there are several ways to pacify your relatives and honor the tradition of that particular garment and even carry it on for future generations.
The first suggestion is to simply cut a small piece of the fabric and sewn (or have it sewn in by a professional) into your new gown. Although these certainly won't save you any money for the honeymoon, it will help to keep the women in your family happy.
The second suggestion to utilized it for the rehearsal by shortening it. This will help somewhat but removing the need to purchase (or rent) a rehearsal dress with the added benefit of meeting your mother halfway.
The third suggestion is to cut it into handkerchiefs (we are not talking about dishtowels here) for both you and the women in your family to use to wipe the tears of joy that will flow in abundance.
The fourth suggestion is to have it tailored into the flower girl's dress, which most likely will be a "girl in your family, wear the dress in your wedding"
The fifth suggestion echoes what we mentioned above with wrapping the bouquet
The sixth, and final, suggestion to create a clutch (like a small handbag) to be carried on the wedding day.
That's Not Good Enough
Well if these options do sedate you, or they don't save them enough for their wedding day. There is the option of just wearing the dress, or you can try to get it altered to suit you. 
Most wedding gown producers are not keen on doing an alteration to old works and it's understandable why. From an outsider's perspective, I can immediately see several conflicts of interest. 
Firstly, they are in the business of making and selling their dresses. They want to do what they do best.
They might have difficulty guaranteeing the quality and beauty of second-hand work. 
Would you ask a painter to repair someone else's painting? Probably not, professional gown makers are artists in their own right.
Fabrics that were used in the former dress might be impossible to match and compatible fabrics might prove just as difficult.
Colors and fabrics don't last forever, even when stored with the utmost care. It might prove very difficult to maintain the tone of a dress. 
These are just a few of the considerations that I have come up with off the top of my head.
You Don't Have an Option
If it is set or a no-option situation and mom's dress is the only dress for her, don't fret. There are many wonderfully touching stories here about brides that have worn a hand-me-down dress to the eternal happiness of both the bride and the mothers that gave them their dresses. 
Refinery29.com has a moving article titled "I Wore The Same Wedding Dress As My Grandmother" which relates the experiences of Melanie, Emily, Jordyn, Sophie, Nicole, Lisa, and Amy, who all wore their grandma's wedding gown, all of which were altered to some extent. They mention that is was not only cheaper than the brand name gown option but also mention that the experience brought with it a heightened sense of meaning as the gown they wore came equipped with built-in history. 
Weddings are times when people are brought together, the family is joined in joy and romance links are made and promises are forged. Why wouldn't a daughter want to strengthen the sense of family on this joyous occasion?
Now we have spent some time talking about gowns and dresses. The frightening options that require scissors, thread, glue, and perhaps dirty dishes. The options that might bring in some money and thus put the gown to a new use. And the option of giving the dress to others for charity or to maintain tradition. 
I hope that this has been a valuable read and I look forward to writing for you again.