There are plenty of music streaming apps available so finding the best to use for your wedding can be a daunting task. Reading up on each app's pros and cons is essential to finding the perfect fit for your big day.
Paid, subscription, and free music streaming apps for Android and IOS are plentiful. You will get the most bang for your buck by choosing a subscription app such as Spotify or Google Play Music. If your budget only allows for a free app, try out Jango for the least intrusive advertisements.

Although you may already have music arrangements in mind, there is a lot to think about. Even if you have a go-to app you use on a daily basis, it may not be ideal for a wedding.
So read on for a full rundown on the best music apps for your wedding currently on the market
While DJs and live bands are popular options for wedding entertainment, DJing your own wedding with a music streaming app is a great way to save money. Even if funds are not tight, creating your wedding playlist gives you much more freedom than the traditional DJ or band.
Many wedding bands and DJs have a set wedding playlist with not much room for variation or suggestion save for a couple of songs.
If you opt to use a music streaming app for your wedding you will have complete control over every song that is played. If you have a niche taste in music this is an especially great option for you.
You can also ask your close friends, family, and wedding party to each contribute one song they would like to hear. Asking your friends and family for input is a surefire way to get everyone moving on the dance floor and excited to hear the song they chose.
Below is our list of 14 of the best apps for wedding music in 2020. While this list is not all-inclusive, it is an amalgam of the best paid, free, and subscription apps available for Android and IOS.
Spotify
Spotify is one of the most popular apps for music streaming. Available on Android and IOS, the app features both a paid subscription and free use. Spotify Premium is available starting at $9.99/ month with family and student discounts.
If you are going to use Spotify to play your wedding music, I highly suggest buying Spotify Premium.
Premium offers ad-free listening, music downloads, playlist creation, and unlimited skips. While free Spotify gives the listener access to over 30 million songs, listening will be broken up with advertisements. At your wedding in particular, you don't want to kill the dance floor vibes with frequent ad breaks.
Spotify offers both the ability to create a playlist and ready-made playlists. You can easily curate and name your wedding playlist with all of your favorite tunes.
It is easy to share playlists with others, and even if your friend doesn't have a Spotify account, they will be able to add songs to the playlist if you send them the link.
Both the music sharing option and ease of saving songs will make creating your wedding playlist a breeze.
If you're not one to create your own playlist there are pre-made playlists that are hours long. Simply type in "wedding playlist" in the search bar and multiple playlists of various artists and lengths will come up.
Spend some time listening to each playlist to decide which is best for you. If you like some but not all songs, you can easily pull music from the pre-made playlist to make a new playlist to fit your music taste.
Once you start listening to more music, Spotify will come up with a "discover weekly" every week for you. This is a playlist of songs the Spotify algorithm thinks you will like.
The music includes similar genres and artists of your most frequently listened to songs. If you have been solely listening to wedding music, then your discover weekly is a great place to go to for more wedding song suggestions.
Apple Music
Contrary to what the name suggests, Apple Music is available on IOS and Android. While Spotify wins the most popular streaming service globally, Apple Music wins the title for most popular in the US.
Apple music does not offer a free version and the paid subscription begins at $9.99/ month, but users receive a three-month free trial.
The lengthy free trial is a great perk if you want to use Apple Music for your wedding. You can create an account a couple of months before your wedding, get used to the application, and then cancel your subscription after your wedding before you are charged.
With the standard subscription, you can only listen to one device at a time. If you try to get multiple people logged on and listening at the same time you will get booted off your device.
Apple Music also is linked to Siri, so Siri can search for music in your Apple library at your request.
The Apple Music library is limited to 100,000 songs but it is more than plenty for an average wedding reception.
The app focuses on song discovery and asks you questions about your genres and bands you prefer when you set up the service. At any time, you can change the choices you picked as well as save songs you like to your library.
Apple Music creates playlists for you based on the music you have been listening to and enjoying. The more you use the service the better and more personalized your playlists will become.
Apple Music has a "New" section in the app that shows the viewer new tracks, top charts, and recommended music videos.
Due to its emphasis on curating a service that is tailored to each person, Apple Music is a great choice for wedding music for a couple who has music they enjoy but would like to expand their library for their wedding.
Apple Music makes it extremely easy to find new songs that are appropriately themed for your wedding and that all your guests will enjoy.
Google Play Music
Google Play Music is a less popular streaming service in comparison to Spotify and Apple Music.
Available on Android and IOS, the app has many of the functions common to streaming apps like discovery, radio, and browsing top charts. Google Play Music has a single listener and family plan. The single listener is $9.99/ month and the family plan is $14.99/ month.
If you already have a Google account, you can use your same login to access Google Play Music. You search the music that you like and add the music you like to your library. If you are listening to the radio, you can click the thumbs-up icon next to each song you like to include it.
The app has an option to download playlists and charts you enjoy; you can listen without WIFI or data usage. You can download playlists and specific songs but not your entire library.
The radio feature of Google Play Music is great for finding new music. The service toggles songs that they think you will like, as well as some seemingly random picks to get a better understanding of the music you enjoy. You have an unlimited number of likes and skips when using radio.
Google Play Music is a nice choice to use at your wedding if you would like to create a playlist to download. If the wedding venue you choose does not have Wifi and you are not on an unlimited data plan, you will want to be sure to download your music before the service.
Make sure to create a playlist that is plenty long so you do not run out of downloaded music before your reception ends. If you do, the playlist will simply start over from the beginning again.
Pandora
Pandora is an awesome app for music discovery. As a radio service, the app is based around finding songs that are similar to your existing music preferences. Pandora is available on Android and IOS and offers a free and subscription service at $4.99/ month.
Pandora's strength is the emphasis on finding new music. Pandora creates radio stations for you based on genres you like. As you listen to songs, you can click a thumbs up button to indicate that you would like to hear more of that type of song. If you click a thumbs down button, the song will never be played again.
You can create up to 100 radio stations on Pandora, ranging from Jazz to rap to pop to Christmas to yes… weddings! Pandora is great for people who enjoy music but do not know which specific artists and genres they want to listen to. 
If you are going to use Pandora at your wedding, I strongly recommend that you pay for the subscription service.
If you opt for the free version, your music will be interrupted every few songs with a 30-second advertisement. The advertisements are often the same, so you do not want your guests to be stuck listening to the same ad over and over when they're trying to dance.
The free version also only has a certain number of skips. You can only skip a few songs per hour. If you use all of your skips, you'll have to wait until the next hour to use skips again.
Pandora will also stop playing after an hour to ask if you are still listening. If you are, you can click "yes" and it will resume playing, but this can get cumbersome if you are listening for a long time.
If you would like a curated radio station specific to your tastes but don't want to put too much effort into curating your wedding playlist, then Pandora is the app for you. Make sure to sign up for the subscription and you will have uninterrupted listening.
YouTube Music
YouTube is already an extremely popular website for music streaming and music video viewing. YouTube Music is YouTube's all-out music streaming service.
If you are familiar with YouTube, you should find YouTube Music a comforting and familiar platform. The app is available on Android and IOS, and features a free ad-supported version, a $10/ month subscription, and a premium $12/ month subscription.
YouTube Music is set up into three parts: Library, Hotlist, and Home. Your Library is where your saved songs, playlists, downloads, and recently listening to songs are.
You can easily add music to playlists which will be saved into your Library for listening later. Unfortunately, there is no easy way to search for songs inside of your Library like there is on other apps. This is a downside of YouTube Music, as you can spend hours in search of one song.
The Hotlist tab of YouTube Music is the music that is trending. You are able to watch the music videos along with the music. If you are a fan of watching while you listen, YouTube music has every music video for their song library.
The Home feature is a great place to get recommendations for new music. As the page that is first when you open the app, it is full of suggestions and videos that are tailored to your tastes and your location.
When you first log in to the app, it will ask you questions about your music tastes and genres, as well as the genres you do not like. Your answers will be used heavily to curate your suggestions on your Home tab.
YouTube Music has a feature called Mixtape, where it takes a random selection of the music you have liked along with other similar tracks.  This playlist is another great way to find new music, and to have a playlist that is tailored to you without doing the work of putting it together.
While YouTube Music is a great service, it also uses a lot of data due to the music video feature. If your reception venue doesn't have WIFI and you do not want to use data, it is probably not a good idea to opt for YouTube Music.
Amazon Music
Amazon has a monopoly on almost everything, and music is no different. Amazon's streaming service offers a free tier and subscription tier at $9.99/ month or $7.99/ month if you are already an Amazon Prime subscriber. The app is available on Android and IOS.
Amazon Music's (check it out here) free tier features radios and playlists that the listener can peruse. You will not be able to create your own playlist or "like" songs with the free version of Amazon Music. The playlists are sorted by genre and listening will be punctuated every few songs with an advertisement.
Amazon Music offers 2 million songs for the listener to choose from and create playlists with. You will be able to curate a music library specific to your tastes. The app will "learn" from the music you listen to most frequently and give you suggestions for new songs, artists, and genres.
Amazon's smart gear, Alexa, is also linked up to Amazon Music. You can use Alexa to play specific songs at your request or ask Alexa to shuffle play a playlist or genre.
Amazon Music has an easy to understand interface that is user-friendly. To listen offline, you will have to download songs onto your phone from your library. This is easy to do, but make sure you are in WIFI before downloading your songs as it could take up a lot of your data.
Amazon Music is a good choice for your wedding if you already have a Prime subscription and are looking for a streaming service that offers a lot for less cost.
You can gain a lot of knowledge about genres of music and build your music library quickly and easily. Listen to songs you would like to play on your wedding day for the app to suggest more tracks that are of similar genre and sound.
IDAGIO
If you are a lover of classical music, then IDAGIO is the music streaming service for you. Many of the streaming services listed above offer classical music but in limited quantity. If you're looking for classical tunes to play during your wedding ceremony or at the reception look no farther than IDAGIO.
Offered on Android and IOS, IDAGIO offers a 14-day free trial. After your free trial ends the service is $9.99/month.
IDAGIO interface is easy to understand and pleasant to look at. The app features new releases, playlists, and bookmarks for your favorite albums. There is also a Mood section if you are not sure what you want to listen to.
Mood is a section of curated playlists of classical music that have similar tones. Mood is an awesome way to learn about new music from a variety of composers.
IDAGIO offers more than a million classical songs and its catalog continues to grow at an impressive 20,000 new songs per week.
You can type in the composer, song, work, conductor, orchestra, soloist, and more to search in IDAGIO. This makes it very easy to look up tracks that are more difficult to find on conventional streaming services.
The app holds many different versions of the same classical hits, boasting 290 versions of Beethoven's Seventh Symphony. You can even filter search results by period, ensemble, conductors, and instrument.
If you are a classical music lover and want to showcase some of your favorite tracks at your wedding than IDAGIO is the app for you.
Its varied search function, as well as large variety, makes the app a pleasure to browse through. One feature IDAGIO is missing is an algorithm to recommend tracks. If you are already quite familiar with the classical music you like, than this will not be a large issue for you. 
TuneIn Radio
One of the only apps on my list which is only available to IOS is TuneIn Radio is a streaming service for those who love a curated playlist to listen to. TuneIn Radio features a free and subscription tier, with subscriptions at an affordable $4.99/ month.
TuneIn Radio outshines other radio apps because of its many features. The app allows you to bookmark your favorite songs and albums, visit stations tailored to one artist, and search stations by genre.
The interface is easy to use especially to those already used to the IOS. Unlike other radio apps, you can pause live streams for 30 seconds, record any station to listen to it later, and rewind and fast forward.
The app also lets you choose a song to wake you up in the mornings and can continue to play in the background as you use other apps.
TuneIn Radio offers over 300,000 stations to browse. You can favorite stations you like so you can quickly return to them again. Your liked stations will appear on your home screen.
If you would like a curated station just for you for your wedding, I recommend TuneIn Radio. You won't have to put the time in to make a playlist, but you will have a personalized radio station for your big day.
Make sure to pay for the $4.99/ month subscription so you don't have to listen to advertisements.
Napster
Napster has a great user-friendly interface and is available on both Andrioid and IOS. Napster offers two subscription plans, one starting at $7.77/ month, and the other at $15.50/ month. Both options feature ad-free listening. The former subscription comes with a seven-day free trial and the latter a 30-day free trial.
Napster features 15 million tracks from artists across many genres. The search feature allows the user to easily find songs and artists to enjoy. Songs that you enjoy can be saved to your library and then made into playlists.
The social aspect of Napster is also a bonus. If you connect Napster to your Facebook, you can connect with Facebook friends and see what music they like.
You can browse their likes and Napster profile, which can be a good way to get song recommendations from friends. Most of Napster's users come from inside the United States, and Napster's users are small compared to those of Spotify or Apple Music.
Napster is a great choice for wedding music if you would like to curate your own playlist to play at your reception. Get recommendations from friends and download the playlist of your choice with ease. With Napster, you can browse new music easily and grow your music library.
Jango
Jango is a free music streaming service available on Android and IOS. The app is ad-sponsored, but only features one audio advertisement per day.
If you would like a streaming service that is free, then be sure to be using the app before your reception begins (press play when you're getting ready with your bridesmaids or groomsmen!) so the one advertisement plays before your reception.
Jango Radio has a large support of indie artists as well as your usual top 40s tracks. The app allows the user to search stations by artist, genre, and songs. Jango interface is a little cluttered as they include the lyrics, album art, artist Twitter updates, and other icons all on the same screen.
The listener can like, ban, and skip songs. If you ban a song, it will never be played again. Songs that are liked will help the algorithm decide what songs to play on the radio next. Because Jango is a lesser-used music streaming service, there are some issues that can occur.
Songs that do not match the genre or mood of the playlist can sometimes appear on the station on accident. This can be a large gamble if you are using Jango at your wedding.
While playing songs that do not match is rare, it can definitely happen. You get what you pay (or don't pay) for, so keep this in mind before signing up for this free music streaming service.
Who Should Be In Charge Of The Music?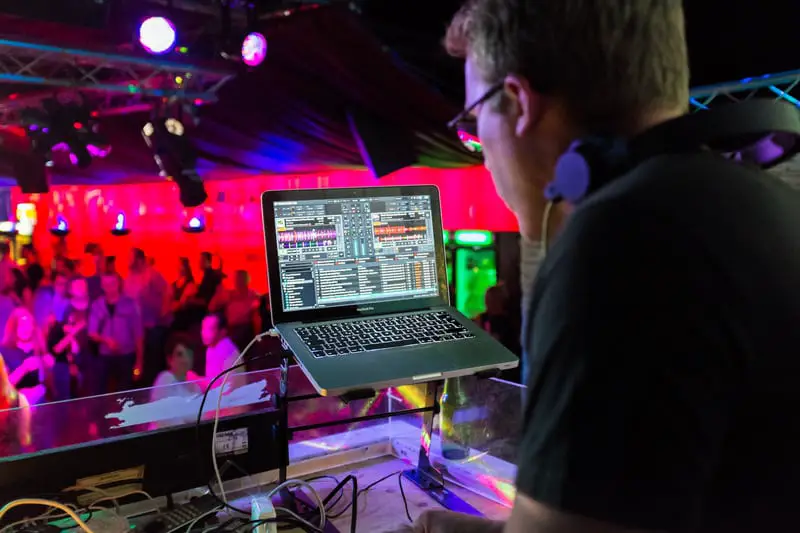 Manning the iPod or phone at your wedding can be a big task! If you are choosing to play a playlist or radio station, ask someone who is already involved in the wedding party (groomsmen or bridesmaid) that you can trust to oversee the music.
This will be a simple task that they will not have to spend time attending to. Their job will simply be to press play on the playlist and intervene if there are any issues. As long as your playlist is plenty long enough, it should play all night without interruptions.
If your helper is willing, you can let them know that they can take song requests. This will make their job a little more difficult as they will have to stop dancing to type in a song recommendation every now and again.
If you already have a set playlist that you are happy with, then there is no need to open the floor to requests.
Remember to have the phone or iPod plugged in the entire time it is playing music. You don't want your phone to die mid-reception.
Spend some time before your wedding getting well acquainted with the app you choose and make sure the person you do choose to man the app is also comfortable. Have fun and get ready to dance!