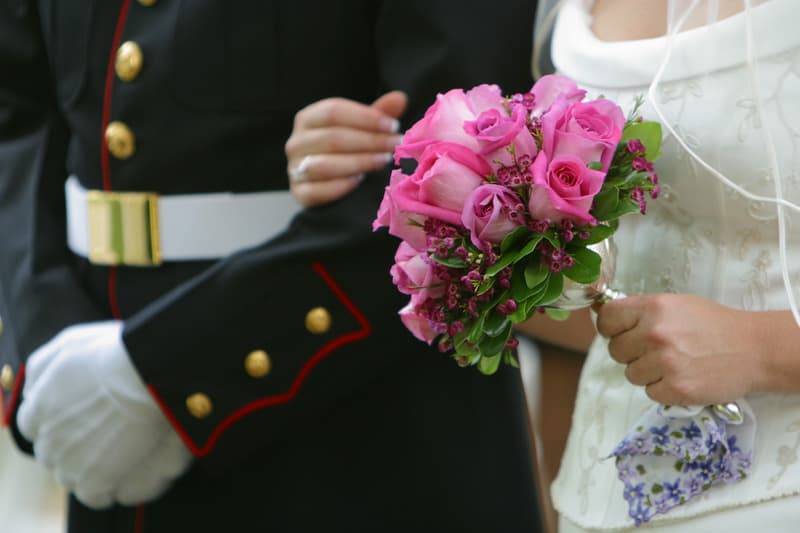 Having a military wedding is a special event for many reasons, it's not only the joining of two people. It means one or both of them has or is associated with the armed forces.
This adds more gravity to the situation, as you want to be respectful of the service of all. 
Guest attire for a military wedding is similar to a normal wedding. The only difference would be for those that have or are currently serving in the armed forces. An officer or enlisted man/woman should wear a uniform in accordance with the formality of the wedding & seasonal regulations.

While the guest attire is similar to a wedding, it is not all the same. There are some rules to follow for enlisted and retired service members, knowing those and the nuances will be very helpful on your special day.  
How formal do I want the wedding? 
If you are the bride or groom then you will decide on what level of formality and tradition that you want the wedding to be. 
It's not the location that makes it a military wedding; it's the uniforms. If you choose civil service as opposed to being married in a military chapel, you can wear dress uniforms.
If you are thinking of a destination wedding within the United States, then check out my article on the best places to get married in the USA.
Some people just want elements of a military wedding, but which ones you can have are subject to military rules and regulations.
This is just the basics of how it would work though, you would want to ask someone that knows all the rules and regulations. But don't worry, the guests at the wedding that are not military can dress just as they normally would. You should be sure to make this clear to them in your invitations.
Protocol Expert
For those that are not familiar with the  U.S., there is a government-issued manual for most things including weddings and uniforms.
This protocol is something civilians probably won't consider, but members of the military need to follow these rules and regulations.
You can turn to the Protocol Red Book or go to the protocol office and seek help from a protocol officer. If you have any doubts or questions you should just ask. You don't want to worry about these things on our big day. 
The Groom 
An officer or enlisted groomsman of the Army, Navy, Marines, or Coast Guard should wear a uniform in accordance with the formality of the wedding and seasonal regulations.
If they are in the Marines, they should also wear white gloves and carry a saber. For members of the Navy or Coast Guard,  they should have a sword as well. Men in uniform can only be adorned with military decorations. They should not wear a boutonniere on their uniform. 
The dress of the groom may differ if all of his ushers were or weren't in the service as well. He would probably choose to wear a uniform if all of the attendants were all in the same branch of the service. 
He might not if the attendants were mixed with civilians and or men from other branches. You have to think about ascetics as well, it is not just about the rules and regulations.
The groom can always dress down to match the rest of the party, and of course, he cannot wear military uniforms if he was or is not associate with the military. 
The Bride 
A female officer from any branch can wear a traditional bridal gown, or she may be married in her uniform.
Most brides in military service choose to wear a traditional wedding dress. If she does wear a military uniform, she is allowed to walk down the aisle holding the bridal bouquet (as opposed to the groom who cannot have flowers). 
If the bride chooses not to wear a uniform, she should complement the formal style of the military uniforms. For the bride and her bridesmaids wearing something that is matching, a long, flowing and elegant train could really look nice.    
Grooming Standards/ Code of Conduct 
These are for enlisted/ active duty service members and not enforced when a veteran/retired member wears their uniform.
They will probably still follow the standards that are set out, it would be common courtesy to conform to them. These would entail all the hair, facial hair, fingernails, and other grooming standards of the military branch you represent. 
While in uniform you would also be subject to the code of conduct. At the wedding, if the groom kept his dress uniform on all night, he would be very respectful of what that uniform signified.
Drinking in moderation, dancing with dignity, and not doing anything to disgrace or dishonor of the uniform that they wear. This is not always the case and you can be reprimanded if this is not upheld. 
Can you wear someone else's uniform or medals to honor them?
It is illegal to wear a uniform or any uniform part that is not issued by the branch of the armed forces in which you serve.
In most cases, if this is done and is reported, the person who is wearing the article of clothing can be arrested and charged. They would be charged under the Uniform Code of Military Justice (UCMJ) for wearing an unauthorized article of clothing. 
This is true even if you are trying to honor a fallen soldier or deceased family member. If you want to include these items, such as medals, then consider displaying them in a frame or on a mannequin. Be sure to keep any family heirlooms safe if having a wedding in a public place.
Uniform Rules for Veterans and Retirees
There are rules for wearing military uniforms as a retired member or a veteran that has discharged. They are similar to all the services. You do have certain rules to wear the uniform for formal functions such as a wedding or any other special events.
Only the service dress uniform may be worn to these special events, this excludes the work, battle dress or PT uniforms. These are not permitted to be worn at formal events. For non-formal events (e.g other parts of the wedding) they are allowed to wear other uniforms as deemed appropriate, but it would best to check with the protocol manual or the office.  
Quick Guide to Military Wedding Attire 
Please remember that wedding requirements change and vary depending on rank, branch, and season. Be sure to check with your base protocol office and officer to find out what you need to do to wear. Also, what is allowed because every situation is different and this is not all-encompassing list.  
Mess Dress– This uniform is worn for both ultra-formal and formal weddings. Most branches have a dark-blue uniform, but in the summer months, the army and navy may wear white pants.
Class-A/Service Dress- This uniform is appropriate for semiformal events,  think of it like a suit. They are also dark-blue and sometimes have white pants.
Different Branches-  Depending on if they are an attendant or a guest, they can just wear a uniform that is comparable to the other branches (look to the protocol office for guidance).
Fathers/Mothers of the Bride- If they are active or retired officers, they may wear their uniforms as would any other retired members, though it is not required. 
Officers- The evening dress uniform equates to civilian white tie and tails. The dinner or mess dress uniform is equal to the civilian black tie.
Non-Commissioned Officers- The dress blues or dress green uniforms are suitable for formal or informal weddings.
Saber Bearer- White gloves are a necessity for all saber bearers. 
How to have Cohesiveness and Unity
You will probably have guests and service members that are going to wear civilian clothes. It will still look great if only the wedding party is in uniforms, but adding some continuity throughout the whole wedding would look even better. 
You can include the colors of the specific branch of the military they are representing, but not the insignias. You can splash these colors everywhere; the flowers that are carried, the to the shades of the bridesmaids' dresses, chairs at the venues, even the table settings or the gifts for the guests. 
If you do choose to have a degree of cohesiveness within the members of the wedding party and/or other guests make sure that advice before the wedding. That they are informed about what the bride and/or groom will be wearing, and what level of formality is expected. 
What to put on the invitations
First, check with the protocol office for the exact wording, but an example for what to wear would be: Military members that are going to be in attendance, you may wear your "uniforms or traditional formal attire".
For a very formal wedding switch it to, "Mess dress uniform invited" and for a semiformal wedding "Class A/Service uniform invited" 
Can We Have a Saber Arch?
If one or both of you are commissioned officers, you may have your ceremony exit beneath an archway of sabers.
This would be held by other military members and known as the Arch of Sabers. If you are a noncommissioned officer or enlisted, you will have a variant called the Arch of Rifles. 
Where Should We Seat Other Members of the Military?
For the ceremony,  the commanding officers should sit near the front, with or directly behind the couple's families. During a reception, the military members should be seated by rank. You could also set up a table of honor near the head table.