Being invited to a Japanese wedding, whether in Japan itself or in your own country, can be an exciting experience. Marriage is a globally celebrated union but isn't always begun in the same way.
So, as a guest, you want to make sure you don't do anything to ruin the day for the happy couple.
During your first Japanese wedding, you may come across customs that are unfamiliar to you which is to be expected. Whilst Japan has a long history of western influence, the Japanese maintain strong regard to their own cultural roots and traditions which are reflected in their marriage ceremonies.
However, there is a saying in Japan: "Born Shinto, married Christian, die Buddhist." Much like the rest of the Asia-Pacific region, Japan practices a high degree of religious fluidity in daily and ceremonial life. Weddings are no exception to this and elements of each religion tend to be practiced harmoniously together during these ceremonies.
With that being said, an overview of the most popular styles of weddings (Christian, Buddhist, Non-Religious, and Shinto) will be covered below with an in-depth look at the Shinzen or Shinto style of wedding, and what of course, to expect as a guest. 
An auspicious wedding day
When choosing a wedding day, many Japanese couples will consult the rokuyo which is a 6-day calendar, so that they may pick a date that is the most auspicious day for a wedding for good fortune to be bestowed on the couple. This means that many weddings will fall on a Saturday on popular months in the Spring and Summer. However, these auspicious days are often in high demand and many couples may choose days which are just a little bit less auspicious to save money and hence, the wedding ceremony may fall on the less-popular winter months. 
As mentioned earlier, the majority of Japanese people practice and are exposed to Shintoism from an early age. Shinto is a polytheistic belief system that translates to mean 'the way of the Gods', it revolves around the veneration of deities known as Kami and the reigning belief is that the kami inhabits and represents everything in the natural world. You may have seen or even been into a Shinto shrine as they are easily recognizable by their iconic bright red torii gates.
Customs and traditions surrounding Shintoism revolve around the worship and appeasement of the Kami as it is believed that they have the power to bring good fortune or disaster to humans. It is no surprise then that Shinto weddings incorporate many elements of worship and communion with the Kami. However, interestingly enough Shinto weddings were first popularized in 1990 during the Taishō period.
Attending a Shinzen style wedding
In a Shinzen style wedding, expect the venue to be held at a shrine and officiated by a Shinto priest. Shinzen style weddings are an intimate affair and only close family members and matchmakers are allowed into the celebration. 
A Shinzen wedding begins with the Sanshin where the Shinto priest and the shrine priestess lead the couple to the shrine where shrine musicians follow them playing the gagaku (ancient court music). A shrine dancer then invokes the Toyosaka no mai where the dancer dances with a sakaki plant to show appreciation to the spirits to protect the couple.
The couple themselves become involved in the celebration through sansankudo where they take nine sips from three cups of sake from a nuptial cup, alternating between them to commemorate the bond between them. The couple will offer a Sakai, a sacred tree branch to the Gods. This is following an old Japanese tradition that tells 'the Gods dwell in plants'
Later, the two families will exchange and drink the sake cup between them in a ritual called Shinzoku-hai. This style of wedding also involves reading vows and oaths in front of the shrine priest and a ring exchange. 
The Shinto style of wedding will involve a lengthy dress process for the bride, for the ceremonial process itself, the bride will wear Shiromuku – an all-white kimono with a wataboshi a large white hood to cover the face of the bride- much in the same way as a veil in western weddings.
This all-white ensemble is to signify purity and harmony and readies the bride to be 'painted' by her new family with their values, ideals and standards. Under the hood, a tsunokakushi is also worn to 'hide the horns' of the bride to suppress emotions of jealousy and pride when entering a new family.
After the ceremony, the bride will change into a colorful kimono known as the irouchikake to symbolize how she will be 'painted' in ideas and values by her new family. 
RSVPing to a Japanese wedding
When invited to a Japanese wedding, be sure to reply to the invitation card regardless of your attendance. Whilst the act of replying to an invitation card should be rather simple, be sure to not include any words or phrases that have connotations with 'cutting', 'breaking' or 'sever', for one, this would be an ominous reply to receive no matter how good a friend or relative you are to the couple, but secondly, it is bad manners in Japanese culture and will be looked at as a malicious act on your part.  
Giving a wedding gift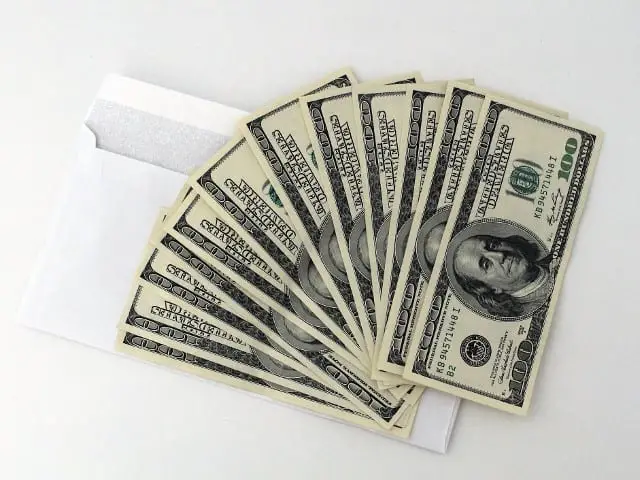 Wedding gifts in the States require a great deal of wedding registries and online shopping, whereas in Japan the act of giving a gift has been simplified to gifting cash aka. goshugi.
The standard etiquette for Japanese weddings dictates a cash gift between 30,000 – 100,000 Yen ($275-$1000) depending on the power dynamics of the relationship (boss vs employee), the closeness of the familial tie and the relationship between the guest and the couple themselves.
If you are not attending the wedding it is acceptable to give less than the standard gift amount but regardless of how much you give, the amount should not be divisible by two or four (ten and twenty are ok).
Once you have crisp, fresh bills from the bank, your next step is to buy a goshugi-bukuro which is a type of ceremonial envelope and to write your name on this. Present this to the receptionist at the wedding if you are attending, if you are not, it is acceptable to mail it to the couple. If you are attending the wedding with a guest, the guest will be required to do the same. 
When you arrive at the wedding ceremony and find your seat, there will be a gift waiting by or on said seat. This is a Hikidemono (gift) with Hikigashi (confectionary) inside it for the guests to bring back home from the wedding. Traditionally, the gift would be tableware but don't be surprised if you see a catalog instead! This is where you can choose a gift from the catalog and then have it delivered to your home. 
What to wear to a Japanese wedding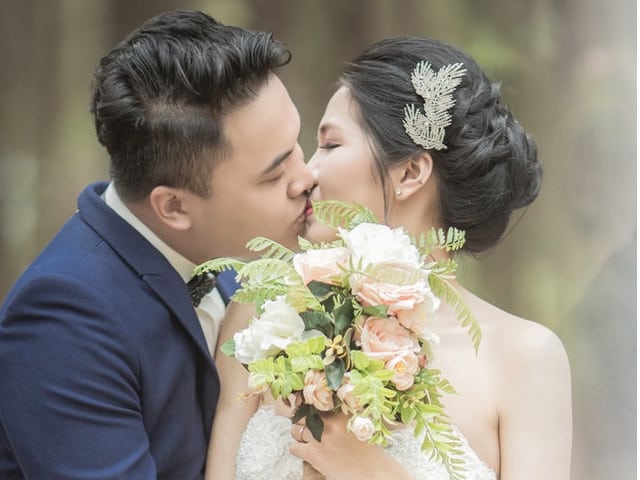 The expected attire for wedding ceremonies has recently become more flexible. The general rule of not upstaging the bride and groom remains and thus, one should not wear the color white or a black tie.
If you are going to wear a kimono to the wedding, only wear one if you know how to appropriately and properly wear one. This does not just mean the actual donning the full kimono (which may take a friend and up to two hours) but also means the patterns, colors, material, length of the sleeves, and obi should be appropriate to the season, style of wedding, and to the wedding itself.
For those who choose to wear a dress to the wedding (knee-length is most appropriate), be sure to cover your shoulders with either a non-sleeveless dress or a shawl. 
Other types of Japanese weddings
For non-Shinto Japanese weddings, you as a guest may expect to experience a myriad of other types of wedding styles such as Christian, Buddhist and non-religious. 
Christian weddings
A Christian wedding is rather popular in Japan with the bride and groom donning traditional western wedding attire and the ceremony held at a chapel or church with a priest.
These types of western Christian weddings have become increasingly popular, even with those who don't identify as Christian. This is largely in part due to the emergence of western media and influence in the sphere of Japanese youth culture, as western media and globalization have entered and expanded the market; so has their wedding customs.
This manifests in the bride wearing a white dress on their wedding day and venues moving away from traditional shrines and temples to hotels and chapel. The service and vows may even be in English if the wedding minister is non-Japanese.
Many of these ceremonies follow the Protestant liturgy and thus incorporate many elements of a Protestant ceremony. You will witness many customs that may already be familiar to you such as hymns, benedictions, prayers, bible readings, the ring exchange, the classic wedding kiss and vows before God as a witness to the marriage.
The bride will also experience the lowering of the veil by the mother and be walked down the aisle and given away by her father.
Buddhist weddings
A Buddhist style wedding (also known as Butsuzen style) of course, takes place at a Buddhist temple. As traditionally, only those who follow the Buddhist faith were permitted to have Buddhist weddings in temples.
However, with the decline of religious hegemony in Japan; Buddhist weddings are rather rare. To reflect the changing culture of Japan, during the wedding ceremony, the bride may choose to wear a traditional kimono or even a white wedding dress. Much like the Christian style wedding, there is an exchange of rings, a prayer union and guests are permitted to witness the ceremony. 
Non-religious ceremonies
Non-religious or Jinzen style of weddings are ceremonies the couple choose for themselves in a display of their commitment and love. It is not legally binding as there is no wedding officiant and this style of wedding either preludes or postludes the actual legally binding event down at city hall.
In addition, this style of wedding usually has the bride and groom in western wedding attire but as it is up to the couple themselves on how they want to commence the ceremony, choice of attire is rather flexible. Expect this ceremony to be held at venues such as hotels and banquet halls.