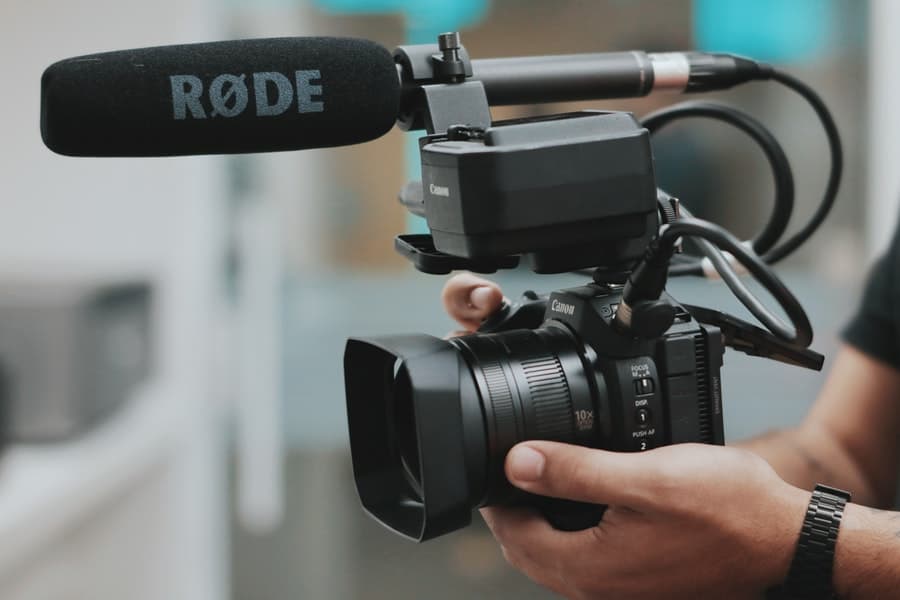 Professional videographers cost money, but for your wedding, they're worth it.  There are many opportunities to get thrifty in life, but your wedding may just not be one of them.
So, should you hire a dedicated videographer for your special day?
Hiring a person to act as a videographer on your wedding day has several benefits but also incurs costs. A professional will provide the best results in the majority of cases as they have access to the correct equipment. Amateurs, both students & friends, should be used only as a last resort.
Ask any married couple if you should hire a videographer for your wedding and you'll get a resounding yes every time.  Now, should you have a pro responsible for cataloging the best day of your life, or one of your friends or relatives? 
We all know weddings are a serious financial undertaking, and hiring a videographer may seem like a frivolous expenditure to those looking through green-colored glasses. 
However, it's best to consider Murphy's Law in this situation: what can go wrong, will go wrong – and when it does, you'll not only have a half-baked wedding video but another person in your life who disappointed you. Who needs that, right?  Be safe: go with a pro.
Still not convinced? Thinking maybe you're the exception to the rule? Well hold on Speedy Gonzalez, there are some dirty details for you to mull over.  Consider these factors before you make a decision.
Ever Heard of Shaky Footage?
Professionals own or have access to a myriad of high-tech camera equipment such as stabilizers and mounting equipment.  They also use top-notch editing programs that can cost up to $10,000. Do you know who doesn't have access to those things? Literally anyone else. 
Think about virtually any video you've taken while not standing dead still… They rarely turn out as nicely as you hope, do they?  Imagine that botched iPhone video was your first kiss as a married couple, first dance, or maybe the last time you got to see an older family member.  You want those memories to be preserved as clear as crystal. 
Audio
Recording video is only half the battle; a quality video has quality audio also.  How do you ensure that every vow is recorded, every word audible? Multiple wireless microphones, and external recorders for starters.  Where to position them? How many are needed? If you try to 'DIY' through this process, you could end up spending a boatload of time and money and still not achieve the results you hoped for. Who needs the headache?
Motion
So you've hired a fantastic photographer who's done an excellent job of capturing stills of your big day.  What's missing? Movement.  Weddings are dynamic events; a reverie of comings-and-goings, subtle body movements, facial expressions, and dance floor mishaps. 
The truth is, while photos are a must-have, they can only capture so much.  If you want to remember all those subtle details, there's no question that you need a videographer on hand.  In 15 years, are you more likely to be worried about the few grand you spent, or the fact that you can remember only fleeting details of your wedding day?  Do your future self a favor.
Sharing Is Caring
Another advantage of hiring a professional videographer is their ability to distribute hard copies of your wedding video on Blu-ray or USB drive, as well as uploading it to Vimeo or other sharing websites. 
This may sound like an easy process, but there are obstacles you may not know about.  File formats, drive formats, and export settings all factor into creating the best possible finished product.  The tech-savvy out there may not balk at this process, but most of us would rather leave this kind of thing up to the professionals. 
Creating many copies allows you to share your memories with loved ones at a relatively low cost (a 4GB USB drive is typically large enough for your wedding photos and video, and a 10-pack of those costs about $26 on Amazon).  Who wouldn't want a high-quality video of their wedding at their fingertips?
The Next Generation
Documenting your wedding day will not only be something you appreciate.  In ten, twenty, or fifty years, your kids and grandkids will be able to look back on that special day, seeing their parents or grandparents in all their youthful glory on the happiest day of their lives.  I wish I was able to look back on the day my grandparents got married!  All we have is a grainy black and white photography. It's not just a wedding video, it's a family heirloom.
If you've read this far, hopefully, you're convinced that a professional videographer is the right fit for you. So, let's get down to brass tax.
Cost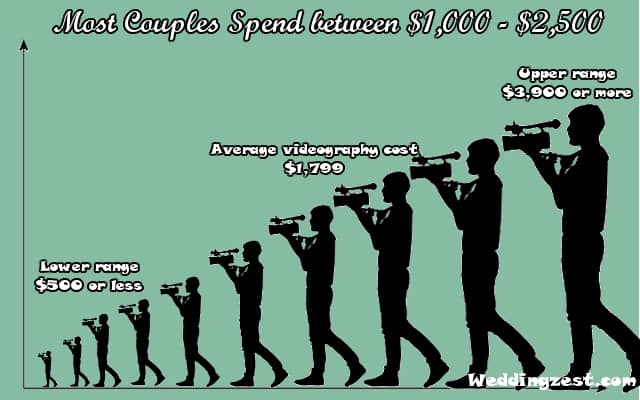 While there is a range of different price points for wedding videographers, you're likely to find a variety of good options in the $1000-2000 range. 
According to research, the average cost of hiring a videographer for your wedding is $1799 (significantly less than the average cost of a wedding photographer – $2679). 
If you can find a company that bundles photography and videography, you're likely to pay less than if you hire two separate companies, with the added bonus of having a crew who will work harmoniously towards a common goal (not two competitors jostling for space and the best camera angles).
What Am I Paying For?
Included in your fee are a few main things.
Service – your videographer's precious hours, usually a pre-determined length of time.
Staff members – the more staff, the more money you're likely to spend. Another reason to bundle photographer and videographer if you can.
Editing hours – This is what will take up most of your videographer's time.  Some videographers may allow you to view your video and send it back with suggestions for changes at no extra cost.
Camera equipment – The quantity and quality of the gear your videographer uses will have an impact on what he or she charges.
Extras – Things such as drone footage, USB drives, and extra rounds of editing may drive the price up, but of course, you decide what you want.
The finished product – As mentioned before, your wedding video is likely to be distributed on DVD, Blu-ray, and USB drive.  Luckily, these products are relatively inexpensive.
Travel costs – This will vary depending on how far away your videographer is based.  It's important to consider this before hiring.
Things To Think About
Before you go about hiring a videographer, you should think about what you want your wedding video to look like.  This will help you develop a clearer mental picture of what you expect, as well as give you some idea of what to ask about when you start the hiring process.
Style
Would you prefer your wedding video to be presented very cinematically, or more like a documentary? Or a happy medium between the two? Your videographer will film according to what you decide, so have a think on this one.
Cameras
Most people these days use digital cameras for their obvious advantages (clearer footage, smaller cameras, higher light sensitivity, etc), but you should consider how many cameras you want capturing footage.  Maybe you want your video to contain footage that would require having two cameras, such as simultaneous footage of the bride and groom getting ready.  Ponder over what you'd like to have recorded, and remember more cameras = more money. 
Audio Recording
Is it important that you capture every word during your ceremony, every speech, as well as various conversations from your guests? Or is video more important than audio? What you decide will impact your videographer's choice on microphone quantity and placement, and of course, will affect the price.
Soundtrack
Do you want to choose the music in your video? Or, choose a genre and allow your videographer to choose specific songs? Do you want your video edited to fit the music or vice versa?  If it's important that you have a say about soundtrack, make sure to find a videographer who is willing to be flexible.
Content
Think about how much of your big day you want to be included in your video.  Maybe you want footage from rehearsal, getting dressed, ceremony, and reception. Maybe you just want your ceremony and small bits from reception. It's up to you, but remember the more time your videographer spends with you, the more you'll pay.
Editing cycles
Are you the fastidious type? Or can you be happy with someone else's vision?  Think about how involved you're going to want to be in the editing process.  Your videographer may allow you to suggest changes once or twice for no extra charge but is likely to demand some extra coin if the editing process runs additional rounds.
What to do if you just can't go pro?
Of course, whenever possible we want a professional to complete the task we need in life. However, sometimes it's just not possible.
Say you are only planning a very small wedding as you have a very limited budget. In this case, even the cheapest rate for a professional videographer may not be within reach, so what choice do you have?
In this case, you may be thinking that you're faced with the tough decision of not having any video footage at all (apart from those shaky cell phone clips). But, there is another sneaky technique you can use.
Sometimes the only thing which separates a real professional wedding videographer and your brother Jim who has a questionable video set up in his bedroom is the professional equipment and understanding to make a good video. Luckily, there is an entire group of people with access to the right kit and the training to do the job.
Hiring a student filmmaker
Go to your local college and find out if they have a film department. If they do, ask for the contact information for the faculty members on staff. You can contact them to ask for a list of students who would be suitable to manage the filming of your wedding.
Although not strictly professionals yet, these young filmmakers will be hungry for any opportunity to hone their skills and will be happy with only a few hundred bucks for a day's work compared to perhaps thousands for a real 'pro'.
But my friend says they can do it
If the only option is going with a friend, perhaps you owe them a favor or just don't know how to say no, then all is not lost.
As I said before, there are some key things to get right in order to get a half-decent video. Making sure that they have a stabilizer or tripod is the first thing to check, then figure out if they have the right type of microphones. If they don't, perhaps hire them. Lastly, do they have the right editing software? If not, perhaps you could just outsource this part. Check out fiverr.com or upwork.com to hire a freelancer.
The best thing you can do is to have a trial run. Make sure that you see them testing the equipment and then see the results before you finally give in and say I do to them before you say it to your future spouse. I still believe a professional is going to be better, but with the right encouragement, even an amateur could do you proud.