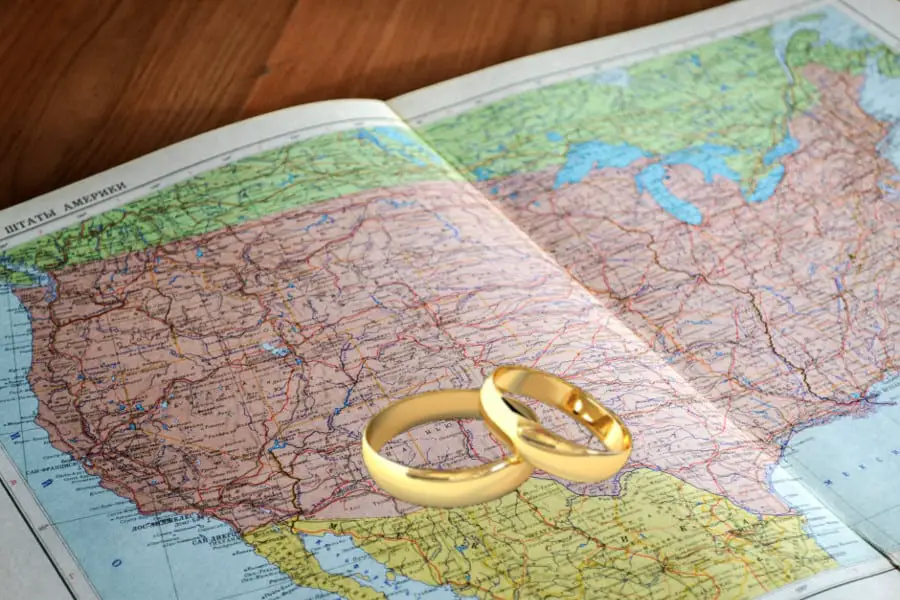 There's no doubt about it; whether you've never been to the US before or you were born and raised here, the US is full of amazing wedding locations. With 50 states to explore, the search for the perfect location can be daunting, so here is our list of the best states to get married in and why.
Have the perfect beach wedding in Florida or California. Elope on a whim in Las Vegas. Hold a destination wedding in New York or have an eco-wedding at a national forest in Washington. Whatever your tastes are, the US has the location for you that will make your fairytale wedding even dreamier.

Every state has unique scenery and wedding venues to offer. If you're still wondering what state is best for you, we've laid out the best venues and locations for your future wedding.  
Where to get married based on wedding type
Below I've compiled a list of the best places to get married for each type of wedding. I haven't, of course, listed every venue in every city and state, only those extra special ones just to get your juices flowing!
Beach weddings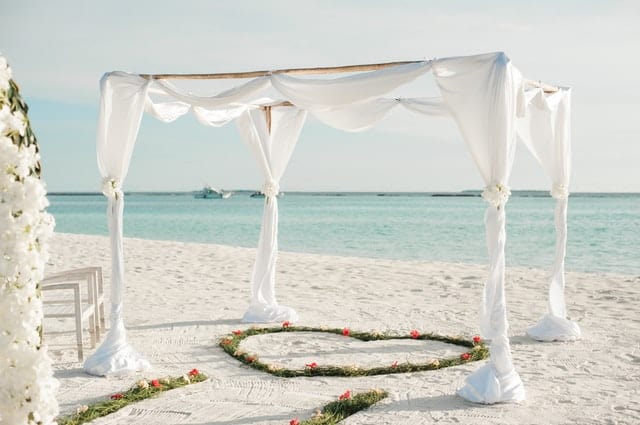 Beach weddings are the definition of a fairytale wedding. Rushing waves, a setting sun, and beach wedding dresses make for the perfect photos. California is usually everyone's go-to state when thinking of beach weddings (and they're right!), but there are many other states that offer even more beautiful beachfront.
Florida
Florida has many beautiful beaches to make your wedding picturesque. The weather remains steady and predictable year-round, so Florida is a great option for beach weddings even in the winter months.
Fort Meyers Beach is located on the southwest coast of Florida. The beach boasts "sugar sand", making the sand extremely soft and pleasant to walk on. If heels aren't your thing then this beach is the perfect location for your barefoot wedding. The beach also offers many water activities like parasailing, jet-skiing, and even dolphin viewing.
If you're looking for Florida luxury, try Barefoot Beach Preserve in Naples, FL. Naples is one of the wealthiest cities in Florida. The white sand beaches and light blue water will make for the perfect photoshoot. There is also a beautiful gazebo that overlooks the ocean, which is a great spot for your "first look" photos.
Though the beaches at Naples and Fort Meyers can be expensive wedding venues, not all beachfront locations in Florida are. Try St. Pete Beach, which requires only a $25.00 permit to hold a wedding. 
Located on the west coast of Florida, St. Pete Beach has nearby galleries, shops, and museums. For those nature lovers, turtles and a variety of sea birds are abundant at Fort Meyers Beach.
North Carolina
North Carolina is an often-overlooked state in wedding planning. It is a gorgeous state with many miles of beautiful beachfront.
Bald Head Island is in a special spot geographically, making it one of the only places in the East Coast where the sun rises and sets over the Atlantic Ocean. It is a historic location with a lighthouse that was built in 1817. This location is perfect for those who want a wide variety of photo backdrops. With grass, large trees, beachfront, and the lighthouse, your photos will be dynamic and beautiful.
If you love observing aquatic life, then North Carolina Aquarium at Pine Knoll Shores is the wedding location for you. The aquarium is located on the Crystal Coast on North Carolina's southern Outer Banks. Located on the coast, your guests can choose to remain on the beach or explore the aquarium's aquatic enclosures. The highlight of the aquarium is its 300,000-gallon ocean tank with a diverse variety of animals from around North Carolina.
Duck, North Carolina is a seaside town with many beautiful wedding venues. The Sanderling Resort offers both private beach ceremonies and lawn ceremonies overlooking the beautiful Atlantic Ocean. If you like the beach ambiance but are an indoor person, you can rent out their indoor beach pavilion.
California
Of course, we wouldn't be talking about beach weddings if California didn't make the list. If you love the west coast, check out Half Moon Bay, CA. Just a 45-minute drive from San Francisco, Half Moon Bay has cliffs, brilliant sunsets, vodka distilleries, and of course, beaches. The location provides many guest activities such as beach horseback riding, wine tasting, mountain biking, and even elephant seal viewing.
Pismo Beach is a central California beach town about a three-hour drive north of Los Angeles.  If you have a lot of guests and are looking for a beach to accommodate them, look no farther. Pismo Beach can fit 200 people on the sand. Along with the beautiful beach space, you can rent a number of indoor pavilions for those brides who don't want sand between their toes.
Destination Weddings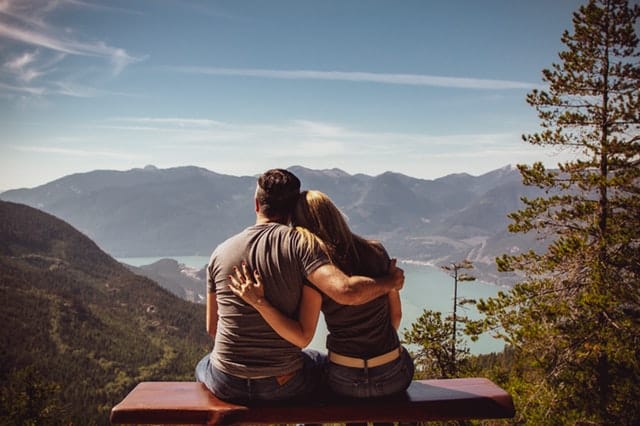 Destination Weddings are a blast because you know all of your guests will get to experience visiting a new place. Getting married is a great excuse to travel and visit new places. Lucky for you, the US is full of amazing spots for destination weddings.
Maine
The east coast is full of beautiful destination spots, but one state that is often overlooked is Maine.
New Gloucester, Main, just 35 minutes from Portland, is a rustic and dreamy wedding location. Shady Lane Farms is a popular wedding venue with sixty acres of woods, field, and heirloom apple trees. If you're looking for a destination wedding that is more on the peaceful side, New Gloucester is the place for you.
Rhode Island
Rosecliff Mansion is a historic mansion located in Newport, Rhode Island. The mansion is a perfect wedding spot for small to medium-sized parties. The mansion's history dates back to 1899. Your guests will be struck by its grandeur and history once they step foot inside.  Rosecliff Mansion was even used as a set for films, including The Great Gatsby, True Lies, Amistad, and 27 Dresses.
Massachusetts
If you and your fiancé/fiancée are the bookworm type, then look no farther than The Boston Public Library in Boston, Massachusetts. Your guests will be able to dine in a beautiful reading room after the ceremony. The library is conveniently located in Copley Square, so your guests will be able to experience the bustling city of Boston. Near Copley Square are the freedom trail, Boston Tea Party Museum, Museum of Fine Arts, Samuel Adams Brewery, and much more.
New York
New York City, NY is perhaps the ultimate destination wedding. If money is no object, try booking The Surrey on the Upper East Side.  Along with being conveniently located by Central Park, shopping, and the Museum Mile, you will not be able to get over the beautiful venue.  Built in 1926, this venue has modern art, spacious guest rooms, and gorgeous views of central park.
Colorado
For the adventurous couple, Colorado is a great spot to get married. With large lakes and mountains thousands of feet high, your guests will love exploring the outdoors with you. Devil's Thumb Ranch is the quintessential Colorado location. Nestled in the mountains of northern Colorado, the mountain top location is beautiful in all seasons. Full of pine trees, fireplaces, and wildflowers, your wedding photos will look extra romantic.
Arizona
The Enhancement Resort near Sedona, Arizona lives up to its name. Located in Boynton Canyon, the resort offers all the views of a beautiful southwestern wedding. Large vermillion-colored rock formations are the centerpiece with beautiful lodges built into the scenery. Guests can enjoy hiking, a pool, and mountain bike rides.
If you're a big fan of Phoenix, Arizona, then take a look at Heritage Square. The square is over 100 years old and is home to beautiful buildings and gardens. If you'd like to get married on a beautiful lawn or in a lush garden, but still be close to a big city center, Heritage Square has lots of options for you. Nearby, guests can visit the zoo, botanical gardens, and canyon tours.
California
For the wine lovers out there, look no farther than Sonoma, California. Known for its vineyards and wine tastings, your guests will be kept busy with wine and beautiful views. Vintners Inn has 200 acres of Sauvignon Blanc vineyards. The large manicured lawn can seat up to 300 people. If you'd prefer an indoor ceremony Vintners Inn has over a dozen event spaces, including ballrooms, a chapel, and dining rooms.
For those who love the big city, Los Angeles, California is a perfect spot for a destination wedding. The Ebell of Los Angeles is one of the most sought-after wedding locations in the LA area. Constructed in 1927, the building's architecture is Italian-Renaissance style. You can rent the entire venue, or hold your wedding at either the North or South end of the property. Located on Wilshire Boulevard, guests will enjoy the Urban Light exhibit, multiple museums, and theatres.
Hawaii
Haiku Sugar Mill in Maui, Hawaii is a gorgeous spot for a wedding. With beaches and palm trees, get married next to a sugar mill. The mill was created 150 years ago to produce cane sugar. The mill is now closed but is still well maintained and a beautiful venue. With rustic European architecture, you'll get all the benefits of a historical building and an ocean view.
Eloping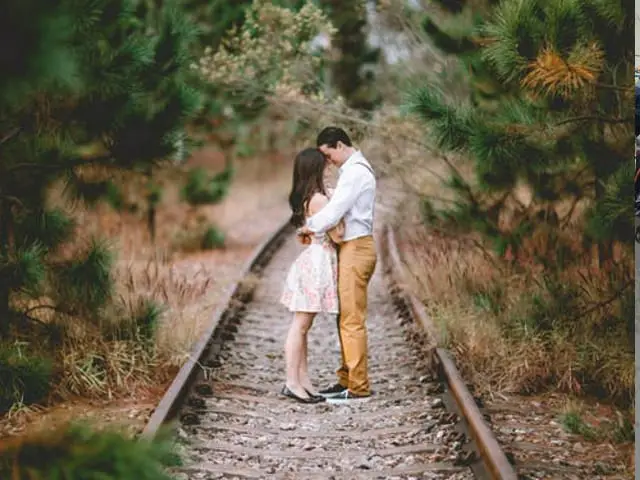 Eloping sometimes gets a bad wrap, but it is just as romantic and frankly much less stressful than having a traditional wedding. There are many locations around the US to elope to, and you can cater your eloping experience to exactly what you and your fiancé/fiancée like best.
Colorado
Many couples choose to elope for the adventure of it all. When you don't have to worry about guest convenience or accommodation, eloping can take you anywhere around the US.
For those who love to hike, bike, and mountain climb, Rock Mountain National Park in Colorado is a wonderful spot to say I do. Close to Denver, the National Park has lakes, trails, and rivers to keep you and your fiancé/fiancée busy for many days after you tie the knot. You can also horseback ride to beautiful lakes, or even up a mountain peak. Once you get tired of the wilderness, take a car 70 miles to Denver and enjoy the perks of city traveling.
Utah
Moab, Utah is another great spot for the couples who love hiking. Moab boasts beautiful red rock formations and beautiful views of the southern desert. Very close to Moab are two national parks, Arches National Park and Canyonlands National Park. Hike up to a beautiful arch formation and say, "I do" for the most beautiful picture-perfect moment.
New Orleans
If you're looking for an eloping location that screams romantic, check out City Park in New Orleans. Filled with giant oak trees, a dazzling rose garden, greenhouse, and sculptures, three are many places inside the 1,300-acre park to get married. After you say your vows, take a stroll around the park to the greenhouse or rose garden. There is nothing more romantic than that!
Georgia
Tybee Island, Georgia is a popular vacation spot because of its clean beaches and beautiful waves. Have a quiet, intimate, and romantic ceremony on the beach next to the Tybee Lighthouse. After you've had your fill of the beach, travel 20 minutes into downtown Savannah. In Savannah, visit the Savannah Historic District, Bonaventure Cemetery, or stroll in Forsyth Park.
California
San Francisco's City Hall is one of the most beautiful in the nation, making it a popular spot to elope. The building itself is gorgeous with white architecture and elegance. The building's entrance with a marble and sandstone staircase is a popular spot for wedding photos, as is a beautiful and sunny rotunda on the second floor.
The beauty of getting married in the heart of San Francisco is you won't have to go far to find fun things to do and good eats. After tying the knot, visit the Golden Gate Bridge, San Francisco Museum of Fine Arts, or see a game at Oracle Park.
Ocean Beach Park in San Diego, California provides beautiful views of the Pacific Ocean, city pier, and beautiful stretches of green lawn. If you're bringing your furry friend along on your elope, this is the perfect location as dogs are welcome. After getting married in the grass or on the sand, head into San Diego for some site seeing. Visit the San Diego Zoo for some fun animal viewing or dive into history in San Diego's Old Town.
Idaho
A large reason people elope is because of how affordable it can be. A lot of eloping venues are free, or very close to being free. Bogus Basin in Idaho is a great example of a free location. Hike, mountain bike, or drive your way up the mountain to get beautiful views of the desert below. If you decide to elope in the spring, there will be views of gorgeous wildflowers to accompany you.
Nevada
Las Vegas, Nevada is one of the first places on many people's minds when thinking of eloping. Las Vegas has been called the "Marriage Capital of the World" because of how easy and cheap it is to obtain a marriage license. Las Vegas' Lorenzi Park is a great place to elope away from all of the casinos. As one of the first parks in Las Vegas, the park has beautiful lakes, palm trees, and statues.
Eco-weddings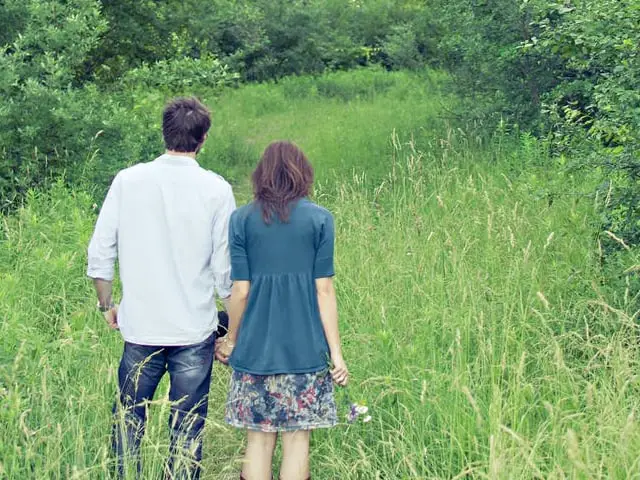 Eco-weddings are great for those who are looking to reduce their carbon footprint on the day they say, "I do." There are many ways to have an Earth-friendly wedding, but the easiest way to do this is to choose an outside venue. Get married in the daytime to reduce any need for outside lights, etc.
Texas
Nasher Sculpture Center in Dallas, Texas is located in downtown Dallas without the big-city atmosphere. Couples can get married outside in a vintage garden along with sculptures created by modern artists.  A unique location, guests will be able to see support you on your big day while perusing beautiful sculptures.
Washington
Have you ever thought about getting married in a treehouse? At Treehouse Point in Issaquah, Washington, this fantasy can become a reality. Located 30 minutes outside of Seattle and tucked inside a beautiful forest, you will be surrounded by tall trees and greenery. The Treehouse offers overnight accommodations, so feel free to take your woodsy fantasy to the next step and spend the night in a beautiful forest.
Hoh Rain Forest in Olympic National Park, Washington offers a lush canopy of greens. It rains frequently throughout the winter season, so be sure to plan for a summer wedding. Hoh Rain Forest is one of the largest examples of a temperate rainforest left in the United States. With many nature loops, hiking trails, and a $50 permit, Hoh Rain Forest is the perfect location for an eco-wedding.
Montana
If you'd like your eco-wedding to be environmentally friendly and low-cost, consider getting married at a national park. Running Eagle Falls in Glacier National Park, Montana, is a dazzling wedding location that requires only a $100 permit. Check out Two Medicine, a secluded area of the park that is perfect for a private ceremony. Located a walk away from Running Eagle Falls, you can have views of two beautiful waterfalls after the ceremony.
If you're looking to get married on the beach, a big city, national park, or city park, the US has it all. With thousands of places to choose from, we hope our list brought you some clarity while planning for your big day. Good luck and congratulations!