The pros and cons of having a DJ or band provide wedding music have been hotly contested for years. Each option has its merits, but there is a clear front runner as far as reliability, music selection, and cost.
DJs are the most effective choice to make for your wedding music. They generally cost less than bands, will have a diverse repertoire of music, require less space, and are more predictable. Some DJs will allow for song requests and can create a unique experience just for you and your spouse.

If you're still unsure if a DJ or band is best for you, continue reading for the full list of pros and cons.
Cost
| Experience | Total cost |
| --- | --- |
| Amateur DJ | $200-$400 |
| Semi-Pro DJ | $500-$700 |
| Professional DJ | $800-$2,000 |
| Wedding Band | >$4,500 |
The cost of a DJ depends on the length of your wedding reception, as almost all DJ's have an hourly rate. If your reception is 4 hours, there are still a few factors that affect the DJ's cost such as experience, quality, variety of music, and which state you're getting married in.
No one wants a DJ who can only play one type of music, so doing background research on your DJ and reading reviews is a great way to start your search.
When searching for a DJ, have a budget in mind. You can spend as little as $200 on a hobbyist DJ and as much as $3,000 on a professional one.
Amateur DJs
Typically, DJs that cost between $200-$400 for a 4-hour reception are beginner DJs. They most likely have other jobs, and just enjoy DJing for fun. They may be looking to get more experience to transition into being a full-time DJ, but they are not there yet.
They will mostly not have a large library, and you will have to request songs beforehand. These DJ's may have a set wedding playlist, so you will not be able to request any songs before or during the wedding. If you are allowed to request certain song choices before the wedding, it may come with a higher price. Make sure you clarify this beforehand
Semi-pro DJs
DJs that charge between $500-$700 are not full-time DJ's but make a chunk of their living from their DJing. It is part-time work, and they are more advanced than beginners. Like beginner DJs, they will most likely have a wedding playlist, and may not take song recommendations or requests.
These DJs might have bundles you can choose from depending on what tone you want your wedding to have, and you will probably be able to requests songs you don't want to have played that are on their playlist.
Many popular songs such as "Blurred Lines" by Robin Thicke are thrown onto playlists, but couples may not want it to play due to its controversial lyrics.
Professional DJs
The most expensive DJs, in the $800-$2,000 range, are professionally trained, experienced, and full-time DJs. If you are looking for a music experience that is catered directly to you with no chances of messing up, then look for a DJ in this price range.
These DJs have the time to spend hours preparing for your wedding and can take song requests prior to the wedding. They will most likely have a wedding playlist but will also be able to edit it to your liking, adding and taking out songs as you'd like.
Cost of a live band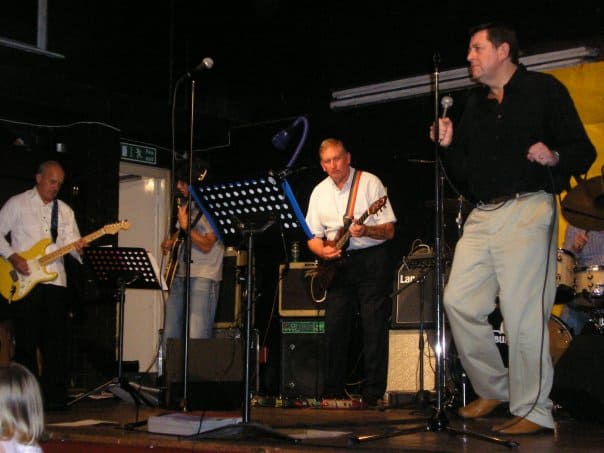 Wedding bands often cost much more than the average wedding DJ. This is because a band typically has multiple band members who each are being paid for their time, whereas a DJ is typically one performer. The average cost of a wedding band is $4,500, but prices vary depending on the number of musicians, the length of your reception, and the quality of the musicians.
Bands typically cost more than DJs for a number of reasons. Bands provide their own equipment, and it takes a lot of time and effort to move equipment from one space to another. It is also generally more exhausting to play an instrument/ sing for four hours than it is to DJ. Additional charges for time can really add up when you're working with a live band.
However, not all bands do charge exuberant rates. I played in a wedding band for years where we only charged a small traveling fee and the bulk of the income went back into band equipment and I was paid in beer. Best job ever for a teenage guitarist! So, do shop around and ask friends.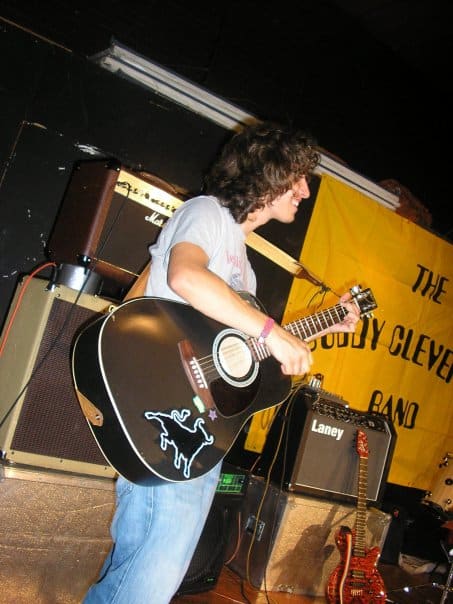 Additional band services
Bands also provide extras for the ceremony if asked. This can include sound equipment, lighting, and projectors that can add to the overall cost.
If you want your wedding band to take song requests from the crowd or learn a specific song for your wedding day, you may encounter an additional charge. A wedding band typically has a set repertoire for weddings and cannot stray too far from their set.
Reducing costs for a band
If you're set on having a live band and would like to keep the costs down, there are a few things you can do. You can request them for a shorter amount of time. If you want a long reception but cannot foot the bill for musicians to play for four hours, then consider having them play for the opener and then having a friend DJ with their computer for the rest of the ceremony.
You can also consider hiring a band with fewer musicians. The fewer band members, the less people who need to get paid, and the less equipment they will have to bring. Bands during the off-wedding season are typically cheaper than the popular wedding months such as May and June, so consider getting married in an a-typical month on an a-typical day.
For more information on saving money by having an off-season wedding, check out my article on winter weddings here.
Questions to ask your DJ or Band
If you learn nothing else from this article, here are a few questions that will really help you get the best DJ or band for your wedding.
Have you done a wedding before?
How many hours is your set?
Can I choose all or some of the songs?
Do you take requests?
Can I veto these types of songs (give a list of inappropriate songs)?
How much space do you need to perform?
What happens if you or one of your band gets sick?
Do you like your job? (Check their personality/attitude)
Do you offer any special discount or offer for off-season dates?
Reliability
The reliability of your DJ can (but doesn't always) depend on the cost of your DJ. If you want peace of mind during your wedding ceremony and would like a memorable reception, it's worthwhile looking into the reliability of your DJ. There are a few factors that point to a DJ that you won't have to worry about during your special day.
Experience
Experienced DJs are typically more reliable. Sound mixing requires many hours of work and professional knowledge. If your DJ specializes in weddings, then you can be assured that they will perform well at your wedding. A big part of a DJ's role is to set a certain tone for your guests. If they have done many weddings prior to yours, chances are they are well-versed in the kind of music and atmosphere wedding-goers enjoy.
Organization
Organization is an important skill for a DJ to have. Your DJ should seem well prepared and organized when you meet with them. A well-organized DJ will remember which songs you request them not to play and also remember to include any songs you request of them. They will need to get to the venue on time, bring all their equipment, and be ready to have enough content for the entire ceremony.
Personality
DJs also should have a nice personality. If you don't like your DJ as a person when you meet, you probably should not choose them to DJ your wedding. The DJ will most likely talk to the audience and make a few announcements, or at the very least be setting the mood for all of your attendees. If the DJ has a good personality and appears to be having a blast playing at your wedding, their positive attitude will be infectious to your guests.
The risks in hiring a band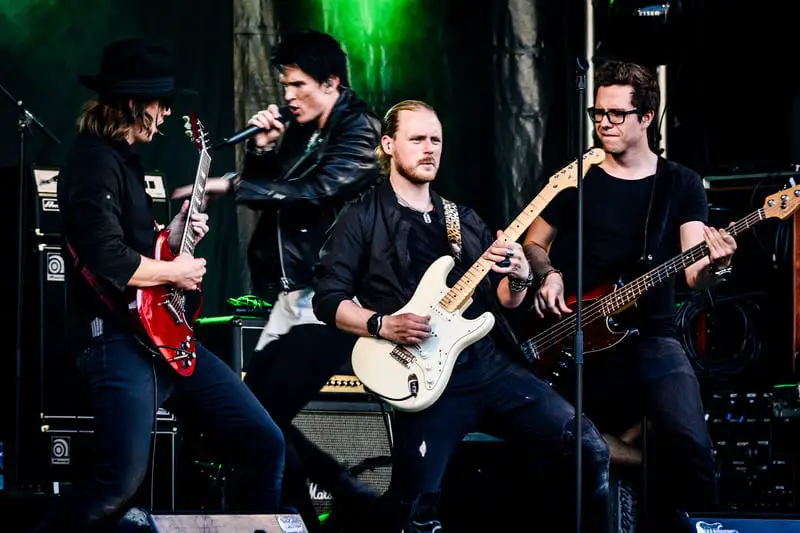 While wedding bands can be reliable, there is slightly more to worry about in terms of the wedding day. You can minimize the worry by hiring a band that specializes in weddings and has performed at many weddings before they perform at yours. If you decide to hire the local band who has never done a wedding gig before, you run the risk of them not being able to fill a four-hour set, becoming fatigued, or not being able to work the crowd.
Bands have more equipment to move than DJs. Add extra band members, and it's easier to accidentally leave something behind. Every good band should have a checklist, but it may be easy for something to be left behind in the hustle of getting ready.
Band members may also fall sick before your ceremony. While the same is true of a DJ, your DJ will not need to use their voice the same way band members will. If the lead singer falls sick, there is not much they can do to heal before your wedding day.
While there is more at risk when working with a band, there are also many reliable wedding bands that will have no issues at your wedding. Similar to DJs, if the band comes off as well organized, you can feel more at ease when choosing them as your wedding entertainment.
It is very important to like every band member as well. If there is even one with a bad attitude, they could sour your entire wedding day. Make sure the band members all seem to get along. You don't want to fall victim to an inter-band dispute on your special day. Do your research, and make sure you are hiring a band that has great reviews.
Choice of Music
DJs will be able to provide a greater variety of music on your wedding day. If you really enjoy a song, DJs will be able to play it directly as you know it, while a band is only able to do a recreation. DJs offer a greater variety of choice.
Most DJs will allow you to pick out a few songs that you need to hear. Many wedding packages come with around 5-10 songs you may request to put on your wedding playlist. While live bands may have a particular sound, DJs have the advantage of being able to play any music from any artist. Whether it be R&B, hip hop, country, pop, or folk, a DJ can play any genre or mood of music you'd like with just a simple song search.
If you love the sound and energy of live music and do not care too much about your music choice than a live band is for you. While you will be able to request songs, you will have to request far in advance so the band can learn the song you'd like to be played.
Bands typically specialize in a certain type or genre of music. It is vitally important that you ask your band this before hiring them for your big day. You should also ask to see their song list. Most wedding bands play typical dancing music, however, there are other bands that play big band, funk, Motown, or Latin music.
Even bands that only play in a specific genre may be open to learning and playing different styles of music. However, be reasonable with your request. It is more likely that a folk band will play pop than a Latin band to play Motown.
Working the crowd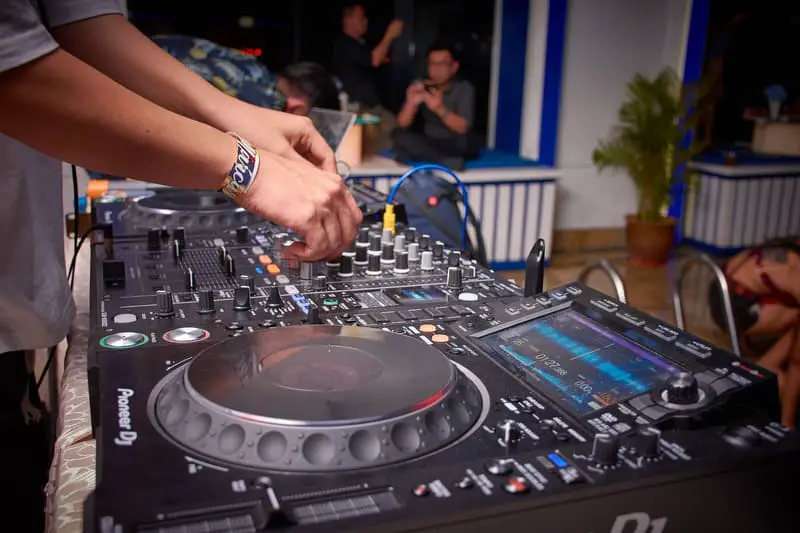 As my personal tip may have hinted at, it is important that your entertainment is able to work the crowd at your wedding.
An extremely important skill for a DJ is their ability to read the dance floor. A DJ may not be the best mixer and doesn't have the best gear, but still shows the audience an amazing time. This is because they know how to read their audience.
Often, the ability to read the crowd comes with experience. Being able to understand a crowd and know what they like or don't like means the DJ has to spend a considerable amount of time looking at the audience. This requires a fair amount of practice with their equipment.
Knowing where and what each button and knob does on their board and being able to find the controls with their fingers will allow them to keep their eyes on the dance floor. DJs should also have a well- organized playlist so they can quickly find songs.
You can find out about their ability to do this through reading reviews, talking to other couples who hired them or just attending a lot of weddings to scout out your own DJ.
Get an extrovert!
DJs that do well also look like their having fun! A crowd never responds well to a DJ that is standing unmoving and doesn't appear to have fun. While the DJ doesn't need to go wild, it's important that they look at ease and like they are enjoying their music.
Once a DJ is experienced, it should be relatively easy for them to work the crowd. Having performed for many weddings, your wedding DJ should go into the gig with background knowledge on what your crowd will and won't jive with. Once they're in there, the ability to react, have fun, and dance along with your weddinggoers will create a charming atmosphere.
A lively band
A live band must also be able to work the crowd. It is important that every band member is engaged and energetic. The lead singer cannot be the only person that looks like they're having fun. Both experienced and inexperienced bands can do an awesome job of working for the crowd.
Bands should be able to play a variety of music and adjust based on audience reaction. A couple of slow songs are okay, but they should know to play upbeat dancing songs for most of the reception. It is important that band members move along with their music and look comfortable and confident on stage.
Bands that are specifically wedding performers should be pros at working a crowd. They must have jovial personalities that get your guests happy to dance along. Make sure your band has adequate experience before hiring them for the job.
Additional Roles
Master of ceremonies
DJs can also double as master of the ceremonies (or emcee/MC). While the DJ is in charge of the music, the emcee must make announcements and move the ceremony forward.
Make sure the person you hire knows what you would like them to do. If you just hire a DJ, do not expect them to be emcee as well. Some DJs will emcee as well for an additional price, or you can hire a totally different emcee for your ceremony. The choice is up to you.
If you would like a high-energy, upbeat emcee than asking your DJ to be the master of ceremonies is the way to go. If you'd like a more conservative and traditional ceremony than it is important that your DJ is not your emcee.
If your DJ is also emcee, keep in mind that they will not be able to move throughout the crowd. Sometimes people like an emcee that is active in the audience, and this is not a good choice if you wish your DJ to double as your emcee.
Band members can also serve as emcee at your wedding for an additional cost. They will make announcements and keep your wedding going at a nice pace. Make sure to ask the band if they also are able to emcee. Do not just assume that this is the case.
Because bands have many members, it may be possible for your emcee to spend some time out with the audience. Usually, the emcee will be the band's lead member, most likely the singer. Similar to DJs, only choose your band to emcee if you would like high energy and upbeat master of ceremony.
Guest involvement
The reception is often the guests' favorite part of the wedding. Eating, drinking, singing, and dancing is something almost everyone loves. If you'd like a high level of guest involvement in your entertainment selection, make sure to voice this with your DJ beforehand.
Guest involvement can include singing, dancing, and music requests. A good DJ will have all the guests on their feet within a few minutes. It is also easy to sing along to what the DJ is playing as the DJ will play original versions of familiar and popular music.
Making music requests will be a little more difficult if you hire a DJ. Often a DJ comes with a set playlist and the music that you requested beforehand. If the song is not in the DJ's playlist, it will be hard for them to look for it on the spot.
Discussing song requests
If guest involvement and ability to make song requests is something that is very important to you, then it's probably best to stick with a live band over a DJ. Make sure, however, to hire a band that has a large set of songs and can play many popular songs by heart. This is something you can check out if you do a live audition.
Experienced bands will know which songs are likely to be requested, and make sure to have a chat with your band to ensure that they do indeed take song requests before you hire them.
Make sure you like the sound of your band and they provide a great dancing atmosphere. Live bands provide a great chance for audience participation. Make sure your band does not mind that your wedding-goers sing along with them (but to be honest, who would care?). Understand that it might be slightly harder for your guests to sing along to covers of songs if they are slower or faster than the original.
The most important thing to keep in mind as far as guest involvement is to communicate your wants and needs to the DJ or band beforehand. If you don't ask them if requests are okay and suddenly all of your wedding guests are requesting to hear "Come on Eileen," then you're going to be dealing with some disgruntled performers.
Space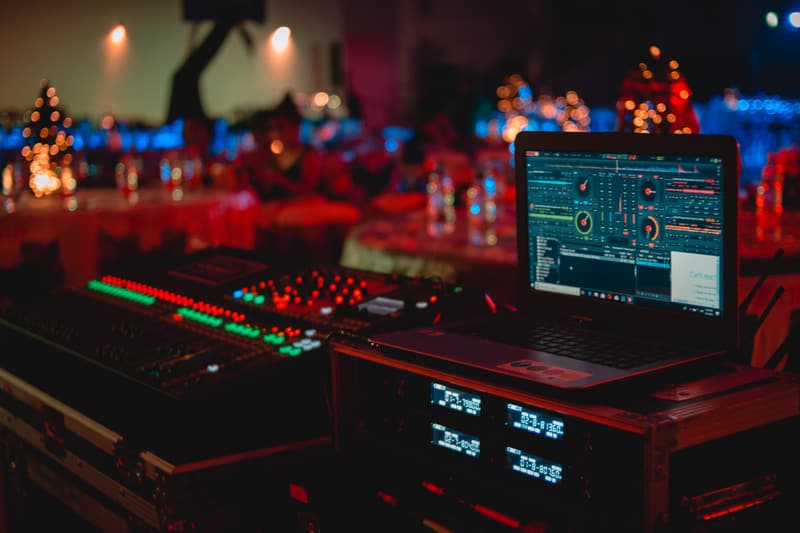 DJ's have a minimal amount of equipment, and thus do not need much space to perform. Almost all wedding reception venues will have enough space to host a DJ. Every DJ's setup will vary a little, but the standard corner set up will allow 12 feet forward and around 9 feet along each wall.
While these measurements are standard, any good and experienced DJ will be able to set up in the space provided. DJs do not need a corner to set up and can work with smaller (but realistic) spaces. Ask your venue where the DJ typically has set up in the past and relay the information to your DJ so they know what to expect.
Bands need much more space than DJs. Some people hire big bands for their weddings of 10 or more people. If you are hiring a live band, make sure you have this in mind when you choose your venue. You need to not only accommodate for each performer, but also for their speakers and lighting stands. If a band is crammed in, they will not be able to perform as well as they would like.
People typically allot 1.5 yards of space per band member and 2.5 yards of space for the drummer. Allow space for their speakers, PA, and lighting stands on the sides. Make sure there is enough space out front for the audience to dance without being on top of the band.
Ask the venue if they have had live bands perform there before. If they haven't, make sure they think it would be feasible to have a band perform in that space. Also, remember that bands need electricity, so position the bands close to a power outlet or two.
Also, consider the need for a sound desk to control the sound of the band. My brother used to do this for the band I played in and it's usually best at the back of the room to keep everything balanced. Ask your band and venue about their needs and facilities for the sound desk.
Overall Experience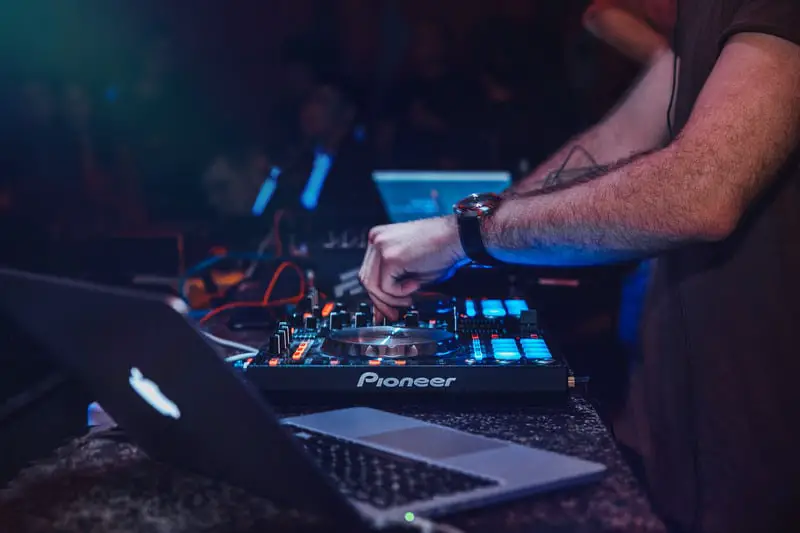 The overall experience of a DJ vs a band can be quite different. DJs are definitely the most popular option. A DJ offers a very "typical" wedding experience. DJs will play a diverse variety of music that much of the crowd is familiar with and will expect. DJs also encourage dancing, singing, and a decent amount of audience participation.
Older guests at your wedding may be transported back to their clubbing days as a twenty-something, and everyone is sure to have a great time hearing their favorite songs. DJs can sometimes provide smoke machines or other cool lighting effects, further transporting your weddinggoers into the dancing mindset.  
With a DJ, your reception experience is sure to have a variety of popular music that everyone can enjoy. You will be able to jam out to your favorite tunes with your best friends.
There is nothing comparable to a live band sound. The rich sound and energy of live music are intoxicating and rarer at the average wedding. Bands can provide an amazing and one of a kind atmosphere for your special day.
Old and young alike will have fun both watching and listening to live performers and may even be able to make song requests. Experienced bands will really know how to get your audience on your feet, leading to an incredible night. 
Recap
DJs and wedding bands have pros and cons that should be weighed carefully in order to ensure your perfect wedding night. While both are great options that will provide unforgettable experiences, we choose DJs as the better option for a number of reasons.
DJs are more cost-effective, have a variety of music, are more reliable, and require much less space. While bands can be a great option, they generally are harder to organize, come with more variables, are much more costly, and play a smaller variety of music.
While these factors are very compelling, I do recognize that nothing beats the sound of a great live band. If you have the time, money, and patience of working with a live band for your wedding reception then you are sure to have a night to remember. Keep in mind, however, that DJs are more commonly seen during weddings for a reason, and a good seasoned DJ is not going to disappoint.