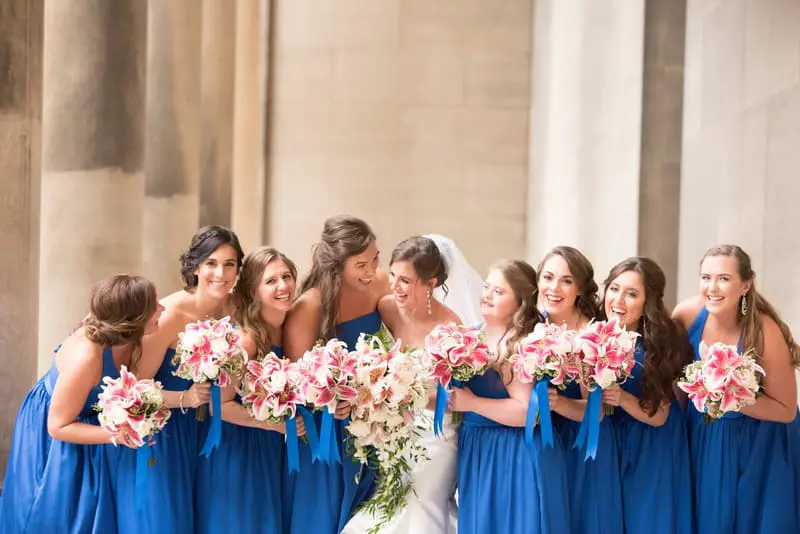 You've said "yes" to your life partner so now it's time for you to pop the question… to your bridesmaids! It's important to show appreciation for your bridesmaids as they will be supporting you through thick and thin as the wedding draws nearer.
One great way to demonstrate your appreciation right off the bat is by having a great bridesmaid proposal.
Material items such as necklaces, wine labels, tote bags, plants, and fortune cookies are creative and personal ways to pop the question. If you're not a material girl, take your future bridesmaids to the movies, on a mini-vacation, out to ice cream, or to the zoo.

Make sure your bridesmaids know you care by choosing a personal way to propose to them. Just as your partner offered you a ring when they got down on one knee, you should offer a symbol of your friendship.
Check out our list below of 65 amazing ideas for how to propose to your bridesmaids.
1.         Necklaces
Matching necklaces are a great way to show your appreciation and give each of your bridesmaids something they can wear on your wedding day. Get necklaces with each of their names on them, initials, or a simple circle or heart design. If the girls you're asking have different tastes, then buy different necklaces from the same maker so the necklaces still have a similar look. Check out these necklaces on Etsy. 
2.         Bracelets
Bracelets are another great jewelry option and provide more room for personalized inscriptions. Engrave bracelets with their names or your wedding date. Thoughtful Impressions is a great website for personalized jewelry.
3.         Rings
Ariana Grande bought rings for all her girls and so can you! Show them how much you care by picking out friendship rings for each of your bridesmaids. Choose a simple band or look for hearts or flowers for your flashier sisters.
4.         Ankle bracelets
Ankle bracelets are an underrated form of jewelry and can be much less bothersome than other hand jewelry that can get in the way. Ankle bracelets are an especially good gift if you're having a beach or barefoot wedding. Let that ankle bling shine!
5.         Piercings
If you and your bridesmaids are piercing enthusiasts than getting piercings together is a great bonding experience. Piercings are great because your friends can choose what they want. Maybe someone wants a nose piercing, but another is getting their ears pierced for the first time. Make sure all of your bridesmaids would find this activity fun before choosing it to pop the question.
6.         Tattoos
Similar to piercings, tattoos aren't for everyone, so feel out the crowd before you propose this way. Get matching tattoos or tell your friends you'll buy them any small tattoo of their choice. Every time they look at their tattoo, they'll be reminded of you and the great memories they had of being your bridesmaid.
7.         Stick n Pokes
If you're the artsy type, than giving your friends stick n pokes is a cheaper and more personal alternative to tattoos. For those of you who don't know, stick n pokes are tattoos done at home with a needle and ink. You can give each of your bridesmaids a stick n poke of a design you created. If you've never done a stick n poke before, make sure to read up on how to perform one safely. You can get this great stick n poke kit from amazon. 
8.         Shirts
Matching shirts of your design are creative and fun. It also makes you stand out as a group and will be perfect to wear during your bachelorette party. Custom Ink is a great website for customizing t-shirts.
9.         Sashes
Sashes are fun to wear and scream "special occasion!" Get your girls bridesmaids sashes to wear during your bachelorette party, or even for a fun photoshoot after you pop the question.
10.       Watches
Watches are a useful and beautiful way to propose to your future bridesmaids. If your girls don't wear jewelry often but you'd like to go the material route, get each of them a matching watch, or purchase different watches from the same company.
11.       Key chains
Key chains are cute, fun, and will go with your girls wherever they are! Pick out a keychain that represents your friendship and gift a different keychain to each girl. Try to choose keychains on the lighter side, as you don't want a heavy keychain to make their keys bulky and cumbersome.
12.       Mugs
You've seen the matching husband/ wife mugs, but why not a bridesmaid mug? Buy all of your girls matching mugs that they can use before and after your special day. On your wedding day during the getting ready photos, the matching mugs will be an adorable addition.
13.       Wine label
Did you know you can personalize wine labels? Buy a bottle of wine for each of your girlfriends and personalize the label with their name or with "will you be my bridesmaid?" Check out iCustom Label for customized wine labels.
14.       Bath bomb
Who doesn't love a good bath? Choose a different bath bomb for each of your friends and explain why you chose that one. For example, pick a fruity flavor because of someone's colorful personality. Your girls will love hearing why you choose the bath bomb you did, and they'll be able to relax well before the busy wedding preparations start.
15.       Shot glasses
Personalized shot glasses are a fun way to get the party started early! Get shot glasses with each girls' name on it. The shot glasses will be great to bring on the bachelorette party. Check out Shutterfly for personalized shot glasses.
16.       Tote bag
Everyone loves a good tote bag for grocery carrying, as a beach bag, and everyday use! Gift each girl a bridesmaid tote bag or put their name on the tote. Etsy has some beautiful custom totes. With independent sellers, you can work with the maker to ensure the tote is exactly what you're looking for.
17.       Hanger
Hangers are going to be a great asset to you and your bridesmaids on the big day. Give them hangers with their names on them to hang up their bridesmaids dress on. Look on Bridesmaids Hangers to shop around for the perfect personalized hanger.
18.       Plant with personalized pot
Do you and your friends have green thumbs? A plant is a gift that will live (ideally) forever and can be nurtured and cared for. It's a great metaphor for your friendship. Choose a plant for each of your girlfriends and pop the question. You can even personalize the pot of the plant to say their name or your wedding date.
19.       Nail polish
Gift each girl nail polish that matches your wedding colors. That way, they won't have to go far to look for the perfect color that matches their bridesmaids dress.
20.       Robe for wedding day
Everyone loves a good robe and matching robes are especially handy for cute getting ready pictures on your wedding day. Gift each girl a robe with their name embroidered on the front. They'll be able to use it not only for your wedding day, but for the rest of their lives. 
21.       Chocolate box
Who doesn't like chocolate? Order an assorted chocolate box to ask your friends to be by your side on your wedding day. Choose a different assortment based on the personality of each girl, or simple pick out the chocolates you know she'll love.
22.       Cookies
Cookies are a great way to show your appreciation for someone. Gift each girl a box of her favorite type of cookie. Bonus points if you bake them yourself!
23.       Fortune cookies
Fortune cookies are a cute way to surprise your girlfriends. Invite them all over for a Chinese takeout night. When the meal is over, have them all break into their fortune cookies that will say "will you be my bridesmaid?" on the inside.  Check out this website to order personalized fortune cookies.
24.       Card
Nothing is more classic than a card! Pick out a card that you think your friend will love and write a meaningful message on the inside. If you want to jazz up the card a bit, make one yourself or add a gift card to their favorite store.
25.       Scratch-off Card
You can now order customizable scratch off cards. Your friend will receive a card and scratch off to read your secret message. Check out these bridesmaids proposal scratch off cards.
26.       Pajamas
Matching pajamas are not just for families on Christmas. Your girls will love having some soft matching PJs to wear throughout the year, and they'll make for great pictures too. Pick out pajamas that you think each girl would love or get super fancy with it and embroider their name onto the front.
27.       Candle
Candles are great gifts in all seasons. Pick out a specific scent for each of your bridesmaids. You can also get customizable candles. Create a personalized label for each girl. They'll think of you every time they light it up. Check out these customizable candles from Yankee Candle.
28.       Beer Koozie
If you and your friends are beer drinkers, there is nothing more useful than a beer koozie. Customize koozies for each one of your bridesmaids. Take the koozies along with you on your bachelorette party. Zazzle is a great website for personalizing koozies.
29.       Painting of all bridesmaids
If you and your bridesmaids have all been friends for a while, then commission an artist to make a painting of a photo you all have together. Old or new, your bridesmaids will be ecstatic to receive such a personal and thoughtful testament to your friendship.
30.       Crowns
Especially for Disney lovers, giving each of your bridesmaid a crown that says "bridesmaid" on it is the perfect gift for the princesses that you all are.
31.       Socks
Socks are exciting! Get each of your bridesmaids a pair of personalized socks. You can even choose socks decorated with their photo or even better, your own!
32.       Underwear
Underwear is an underrated gift. Everyone loves receiving a pair of new underwear. Whether it's sexy, conventional, boyish, or comfortable, your bridesmaids will love a new pair.
33.       Matching journals
If your girlfriends love to write, give them each matching journals. You can gift them a small pocket journal so they can always have the journal close by. You can personalize journals on this website.
34.       Picture frame
Buy each bridesmaid a picture frame to put your favorite picture of the both of you in. This personal gift is sure to hit your bridesmaids right in their heart. You can also buy a personalized picture frame to go along with the picture you choose. Check out Frame It Easy to get started in your search for the perfect frame.
35.       Balloons
Balloons are for people of all ages! Buy your girlfriends a bridesmaid balloon. It'll be a great showpiece at their home whenever anyone comes over. It'll also make for an adorable post on social media.
36.       Macarons
Macarons are currently all the rage. Order and hand deliver each girl a colorful assortment of macarons. Your bridesmaids are sure to appreciate the beautiful gift. If there are no bakeries that make macarons in your area, you can order macrons online at ma-ka-rohn.
37.       Gift box of goodies
If you'd like to have a combination of the ideas above, create a gift box of goodies for your bridesmaids. Deliver each gift box by hand and enjoy seeing your friend's face as she pulls out one personalized gift after another. Customize each box to your friends' liking. Some may want a jewelry heavy box; others may want candies. 
38.       Movie theatre screen
Ask a local theatre if they can display the words "will you be my bridesmaids?" on the screen after a film. Take your girlfriends out to the movies and surprise them big! 
39.       Marquee sign 
If a theatre is unable to display the message on screen, ask if they'll put it up on their bill board! Your girlfriends will love to see the message displayed for the public to view.
40.       Restaurant marquee
If you and your girls have a favorite restaurant, ask that restaurant to put up your message on their marquee. Take your girls out to eat and delight as they notice the sign.
41.       Radio proposal 
Call your local radio station and ask if the host if they will ask your friends to be your bridesmaids on air. Make sure they all tune in at the right time!
42.       Park proposal
If you're nature lovers, take your girls out for a stroll in the park. Once you're in a scenic spot you can pop the question. They won't see it coming and will be pleasantly surprised.
43.       Volunteer proposal
For the charitable at heart, pick an organization you and your friends all care about. Ask if they'd like to volunteer with you for a few hours. After the event is over, ask them if they'd like to "volunteer" to be your bridesmaid.
44.       Vacation
While this option can get a bit pricy, if you have the funds go for it! Take your girlfriends on a small weekend vacation. You can do a road trip to a national park, big city, or even rent a hotel in your hometown. Pamper them as much as you can for a weekend. They'll really appreciate it!
45.       Intimate dinner
Try to coordinate a time for all of your girls to come out to a nice intimate dinner with you. If schedules don't line up, then take each girl to dinner individually. If you choose to take each person out alone ask your friend which restaurant they'd like to go to. You can decide how casual or fancy you'd like it to be. Pop the question during dessert.
46.       Spa treatment
Taking your girls out to a spa treatment is the perfect thank you gift. Get facials, massages, waxes, or a combination of everything. Pick a place you know they'll love, and book in advance if you are all going at the same time. Make sure to coordinate schedules so you're not having to go to the spa every day for a week! 
47.       Surprise them at work with flowers
Work can be dreary so sending them flowers is the perfect way to brighten up their work day. Have them delivered to their desk with the message "will you be my bridesmaid?" Try to schedule the flowers towards the end of the day. Otherwise they'll be so excited that it might make the rest of the day go by in a drag.
48.       Coffee date
If time is short or if you and your girls really love coffee take each girl out on a coffee date. Have them pick their favorite spot and treat them to a cup and a scone. If you want to have a little gift to go along with the date, put together a small goodie bag with a mug and their favorite coffee beans.
49.       Cocktail hour
You and your friends most likely have a busy schedule. If you can't make a time during the weekend work, pick a convenient place for an after-work cocktail hour. Ask them to meet you at 6 o'clock and buy your girls their favorite drink. It'll be the perfect way to decompress after a long day and they'll love hearing the news together.
50.       Boozy Brunch
If brunch is your favorite meal, take your friends out for some French toast and mimosas. Schedule on a weekend and make sure you all have rides home! If you can't coordinate a date together, then be sure to take each individual out for a personal bruch with you.
51.       Go to a farm
For animal lovers out there or for those who live in rural communities, going to a farm is a fun, new, and awesome date to take your future bridesmaids on. Ask them the question when riding on a tractor or while horseback riding. Your bridesmaids are sure to be amoooosed.
52.       Apple/ fruit picking
Depending on the season, apple, blueberry, strawberry, or raspberry picking is a fun bonding activity to do with your future bridesmaids. Take them out to pick the fruit of their choosing. If you'd like, you can purchase the fruit for each bridesmaid. Fruit orchards are often connected to larger farms that offer other activities so you can turn the fruit picking into a whole day excursion.
53.       Ocean or lake
If you live near a body of water whether it be an ocean, lake, or river, have a beach day with your ladies! If the water you live by is not swimmable, then spend time walking along the shore or take a hike in nearby woods. Enjoy some fun in the sun with your best friends before you ask them to be next to you on your big day.
54.       Picnic
Picnics are a great way to spend quality time together outdoors. Ask each of your bridesmaids to bring their favorite picnic dish, and you supply the main meal, blanket, basket, and picnic games. Choose a park, beach, or favorite spot you all have. Tuck into a cozy meal and don't forget to bring the wine!
55.       Ice cream date
Ice cream dates are a great casual way to ask your friend to be your bridesmaid. Ice cream is a wonderful idea if you have busy schedules but still want to make sure to take the time to ask your bridesmaid in a caring way. To put the cheery on top, you can also order a custom printed tub of ice cream for your bridesmaid. The website Alibaba is the way to go if you're looking for some printable ice cream containers.
56.       Go to the zoo
Another great outing for animal lovers is the zoo! If you have a zoo near you, coordinate a weekend for all of your future bridesmaids to get together and take an afternoon looking at animals. Your friends will be 'otterly' psyched to spend a day with you looking at the animals. At the end of your trip, take them to the gift shop and let each girl pick out the stuffed animal of their choice.
57.       Sporting event
For those of you who love sports, treat your girlfriends to a baseball, basketball, or any of your local sporting team games. If you have time to travel, take a road trip together to support your favorite teams. After the game is over get some drinks together and pop the question.
58.       Camping
For those adventurous friend groups, camping is an amazing bonding experience. And what better location to ask if they'll be your bridesmaids than over a crackling fire with smores. All of you can work together to gather the camping equipment and go shopping before you leave for the food you'll want.
59.       Arcade
Take your friends for a night out at the arcade! Drum up some friendly rivalry by playing games together. If you get lucky and win, give your prizes to your girlfriends. They'll love spending an evening gaming with you.
60.       Bike ride
Find a nice long trail and take a bike ride together. You can plan some pitstops along the way, so make sure to have your bike locks on you. Plan to stop for ice cream, lunch, and coffee at the end. Treat your friends to the food along the way and ask them the question on your last stop.
61.       Airbnb vacation
Airbnb popularity is on the rise and is an affordable way to get out of your house and have a small vacation. Rent an Airbnb downtown for a night out with you and your girls. Even if you're staying in the same town, it'll be great fun to stay somewhere else for a change.
62.       Manicure/ Pedicure
Have a mani pedi day with your girls. Schedule a time when you all are free and book ahead so you can get seats next to each other. Ask them to be your bridesmaids right when they arrive, and spend the rest of the time talking about how excited you are. 
63.       Write and perform a song
If you like songwriting and play the guitar or piano, writing and performing a song for your bridesmaids is the way to go. If you like this idea but can't think of an original tune, write a funny remix on a familiar tune. This is easier than it might seem. You can even turn your Disney favorites into a cute proposal song. Take Frozen's "Do You Want To Build A Snowman?" and turn it into "Do You Want To Be My Bridesmaid?"
64.       Photo shoot
Ask all of your bridesmaids to dress up and meet you in a scenic location. After you pop the question, surprise them with an impromptu photoshoot! You'll have a fun bonding experience together and the girls will have fun getting dolled up for the camera.
65.       Just ask!
While it is nice to pull out all the stops it is certainly not necessary. The groom does not have any social pressure to ask his groomsmen in a certain way, and neither should you! Your bridesmaids know how much you care about them from the years of friendship you've shared. Just go ahead and ask. They're bound to say yes!